Download Amazing "iBaked Skin Pack" For Windows 7
Almost many of you love Windows customization and we respect this spirit. You can customize Windows with your own created themes and using skin pack created by a specialized developer. We have share such skin packs in our customization section. Today, we're going to share yet another customization skin pack for your Windows 7.
"iBaked Skin Pack" is the skin pack which can customize your Windows 7 with a touchy way. This skin pack is developed by our friend "Hamed Sp". He has already developed and shared a lot of skin pack for Windows 7 and known worldwide for his awesome creations.
Following is the preview of this skin pack: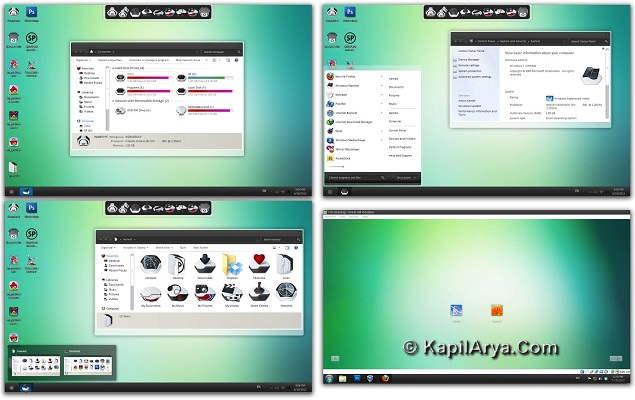 The above said skin pack changes Windows 7  themes, wallpapers, icons, docks, login screen, boot screen with in a amazing, good looking interface.
You can download this skin pack (offline installer) using following links:
Download Link [32-bit]

Download Link [64-bit]
NOTE : The above featured skin pack is a third-party customization tool for Windows. We here strongly recommend all users to create a "System Restore" point before trying or using it. It will preserve an option to revert back to previous look in case you do not like the change.
See Also
This article was posted in "Customization, Windows 7'' section by Kapil Arya.
If you enjoyed this article, subscribe to our RSS feed or free newsletter to get all new articles directly in your Inbox. If you have a Windows, technology article to share, then feel free to send us.
Recommended Articles
Get Involved! Add Your Comment