I always prefer to have multiple installations. Currently I was running Windows 8 in parallel with Windows 7 and Ubuntu. Yesterday, I faced a horrible issue. I accidentally deleted volume for my Ubuntu installation and when rebooted… BOOM!! The unknown file system, grub rescue message was there to welcome me.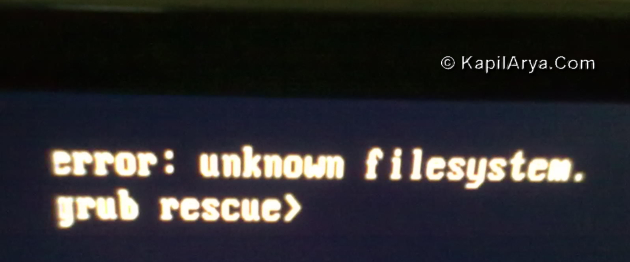 Now the problem becomes more critical as my DVD-ROM also stopped working atm. This issue can be fixed easily with the help of a Windows setup and running start up repair, but in my case it can't be applied. I only have a Windows 8 Release Preview iso image with me along with my USB drive.
After struggling with my laptop, I finally solved the issue. The method will help you to solve the problem without repairing the boot manager. Here are some useful steps that I followed and hope they will work for you.
1. Make a bootable USB drive with any Windows iso setup. This can be done utilizing simple steps of this article.
2. Now plug in the USB drive into laptop and boot it. Press F9 for boot menu options.
3. Now select USB hard drive from boot menu options.
4. That's it. Now setup will prompt to installation of Windows with encountering any issues.
5. Choose that location drive, where Ubuntu was installed previously. Once Windows will complete installation, it will fix the error significantly.
So the conclusion is that, Windows installation overrides and we got a fix up….. :)
See Also
This article was posted in "Linux, Troubleshooting, Windows 7, Windows 8'' section by Kapil Arya.
If you enjoyed this article, subscribe to our RSS feed or free newsletter to get all new articles directly in your Inbox. If you have a Windows, technology article to share, then feel free to send us.
Recommended Articles
Get Involved! Add Your Comment