[FIX] Error "Your Current Security Settings Do Not Allow This Action" On Windows Media Player
Published February 13, 2012 in "Troubleshooting''. Share on Facebook, Twitter, Google+ or print this article​​​​​​​​​​​​​.
Recently I have write an article on the codecs problem for Windows Media Player. You can check that article on following link:
Win7Codecs 3.4.7 : Complete Collection Of Codecs For Windows Media Player
One of my good friend asked me that when he use codec packs, his system hangs more and becomes unresponsive. That's why he hates to use codec pack. Similar friend reported me that he is getting some weird errors when trying to play flash files(.flv, .swf etc.) via WMP. Obviously the issue can be solved above said codec pack but he requested me to employ a manual fix to this.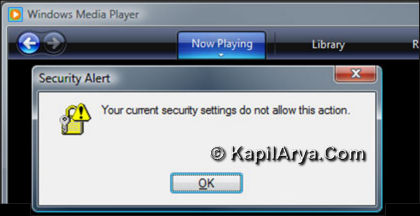 In this article we'll try to fix the issue via editing of registry keys and see the error is no more! So lets move on…
1. Press the Windows Key + R combination to bring out the Run dialog box. Type "regedit.exe" in this Run dialog box. Accept the permission from Windows.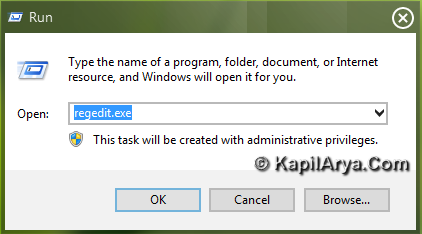 2. Navigate to the following location:
HKEY_CURRENT_USERSoftwareMicrosoftWindowsCurrentVersionInternet SettingsLockdown_Zones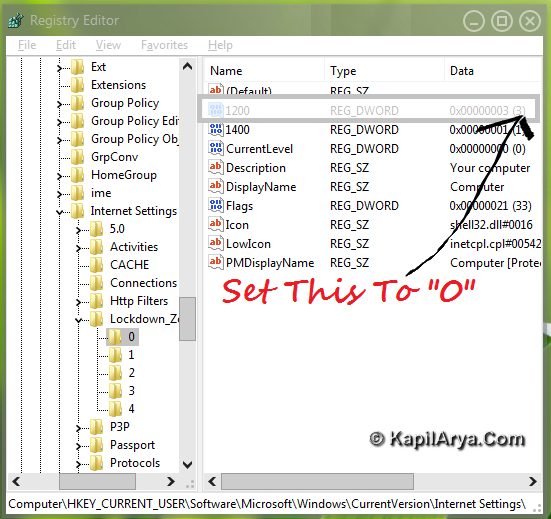 3. In the right pane, seek for 1200 and carefully observe the value data against it. If you're really facing the issue, the data value must not be "0".
Hence making it "0" will surely fix the problem.
4. Now right click on 1200 and select Modify and edit the DWORD value data and put it to "0".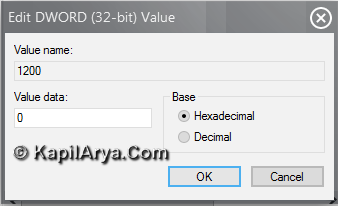 That's it. Now perform the same action for following location also:
HKEY_LOCAL_MACHINESoftwareMicrosoftWindowsCurrentVersionInternet SettingsLockdown_Zones
Why this key?
If you are advanced registry user, this question might around your mind. The logic to use this key is that Windows Media Player is unable to load flash control according to the issue. The thing that is preventing to complete this action is the Local Machine Zone Lockdown feature. Following the above procedure will allow WMP to load flash controls.
See Also
Best Of Kapil Sparks™
Join The Discussion