[How To] Show / Hide "Favorites" In Windows 8 Navigation Pane
Published April 4, 2012 in "How To, Windows 8''. Share on Facebook, Twitter, Google+ or print this article​​​​​​​​​​​​​.
Windows 8 Consumer Preview has a lot of hidden possibilities in it. We're regularly posting on these possibilities for the convenience of users. The beta version of Windows 8 reveals yet another hidden feature about navigation pane.
So, today I'm going to share this hidden feature with all you guys. Windows 8 Beta enables users to remove or add the "Favorites" in the explorer navigation pane. Here is how to enable or disable this option:
From Folder Options
You can hide "Favorites" very easily from the Folder Options in Control Panel. Just click on the Folder Options link there and you'll get following window: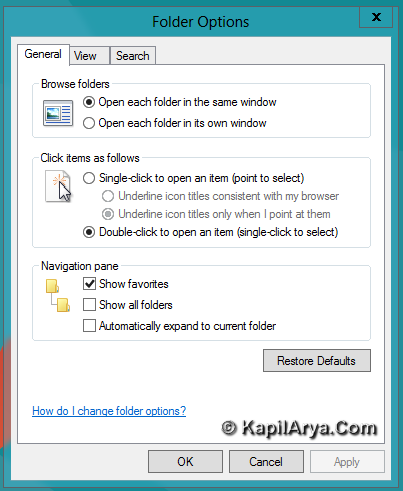 Now remove check from the Show favorites option under Navigation Pane heading.
From Explorer Itself
The second way to hide "Favorites" lies inside the context menu in Windows 8 explorer itself. When you right click on the navigation pane in explorer, you'll get the option to show / hide "Favorites". Take a look:
If you check Show favorites option, Favorites are shown (default) whereas if you uncheck the same option, Favorites will be hidden.
That's it. So you have the option to remove the extra things from explorer which is quite impressive…!
See Also
Best Of Kapil Sparks™
Join The Discussion