Angry Birds madness is now gone at its peak and the "Angry Birds Space" is now released on Android and iOS platforms for both PC and Mac as well.
Our friend "Hamed SP" liked this game very much and he created a skin pack for this which I'm gonna share you with all you guys here. "Angry Birds Space Skin Pack" is developed for Windows 7 users, so that they can enjoy the Angry Birds Space interface on their system. However you can play the game free at Google Play Store but ads might interrupt you.
Download "Angry Birds Space Skin Pack" For Windows 7
Anyways, here is the preview of this skin pack: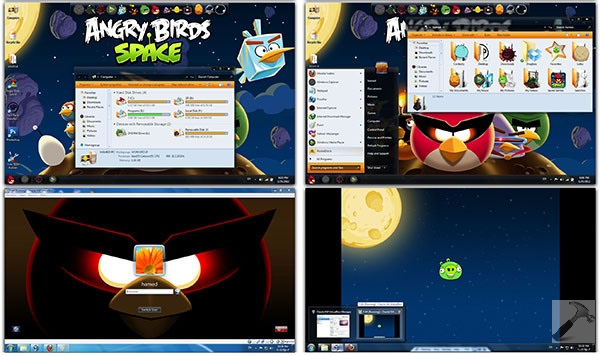 Above said skin pack changes Windows 7  themes, wallpapers, icons, docks, login screen, boot screen with Angry Birds Space interface.
Here is the video for this skin pack:
You can download this skin pack using follow link:
NOTE : The above featured skin pack is a third-party customization tool for Windows. We here strongly recommend all users to create a "System Restore" point before trying or using it. It will preserve an option to revert back to previous look in case you do not like the change.
Enjoy!