We all know that recently Rivio has announced a new version of its popular game "Angry Birds" i.e. Angry Birds Star Wars. It is available for download on Google Android (free), iOS and OSX platforms. Its also available for Windows OS. Today we're going to share a skin pack based on this game.
"Angry Birds Star Wars Skin Pack" is the skin pack which can transform your Windows 7 into Angry Birds UI without a hitch. This skin pack is developed by our friend "Hamed SP". He has already developed and shared a lot of skin pack for Windows 7 and known worldwide for his awesome creations.
Download "Angry Birds Star Wars Skin Pack" For Windows 7
Following is the preview of this skin pack: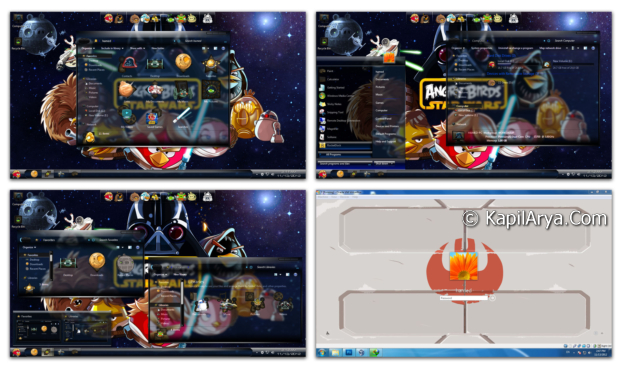 The above said skin pack changes Windows 7 themes, wallpapers, icons, docks, login screen, boot screen and replace them with awesome Angry Birds UI.
You can download offline installer of this skin pack using following links:
NOTE : The above featured skin pack is a third-party customization tool for Windows. We here strongly recommend all users to create a "System Restore" point before trying or using it. It will preserve an option to revert back to previous look in case you do not like the change.