Windows 7 has been the favorite OS ever for most of users here, also Google Chrome is the most liked browser as well. Have you ever thought about transformation of Google Chrome into Windows 7? If yes, you might still seeking for the way to do it.
In this article, we've an easiest way for you to transform Windows 7 into Google Chrome without any tweaking of system files. "Chromium Skin Pack" is the skin pack designed for this transformation and is developed by our friend "Hamed Sp". All you need to do is to download and install this skin pack on Windows 7 and you'll got the look and feel of Chrome.
Download "Chromium Skin Pack" For Windows 7
Following is the preview of this skin pack: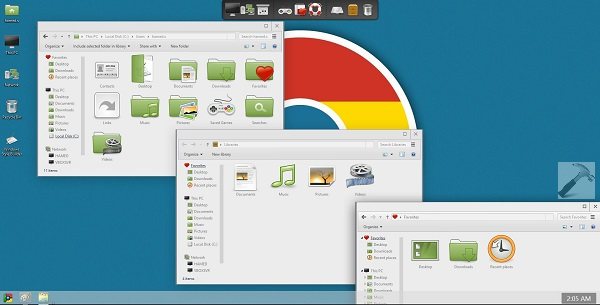 The above said skin pack changes Windows 7 themes, wallpapers, icons, docks, login screen, boot screen with Google Chrome UI.
You can download this skin pack using following link:
NOTE : The above featured skin pack is a third-party customization tool for Windows. We here strongly recommend all users to create a "System Restore" point before trying or using it. It will preserve an option to revert back to previous look in case you do not like the change.
Enjoy!