Microsoft has been criticized deeply after their final confirmation of removing Start Button and Start Menu. Back in past, the days were, which made Microsoft popular was nothing but the Start Button as provided in Windows XP editions.
Now the strange and pointless decision to remove Start Button from Windows 8 has created a noisy atmosphere with lots of cries from Windows lovers. Everybody ends up with…. Why???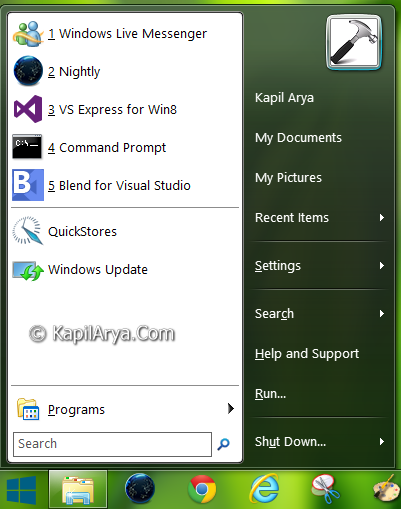 Well, online communities has given various suggestion to MS guys, so that they can improve the index of Windows 8 and treat people by restoring the lost Start Menu. Along with it, freewares such as Classic Shell has dominated a significant part by replacing Start Button and Menu by cracking the integrity.
Windows 8 Start Menu Should Be Like This!
Today, in this article, we'll tell you about yet another Start Menu concept as proposed by our DeviantArt friend andreascy. Following image illustrates his imagination regarding this concept:
Options are cleverly sorted in categories, using the same Windows 8 like GUI that defines the new Microsoft operating system.
Sadly, there are close to zero chances to see such a feature in Windows 8, as Microsoft has absolutely no intention to bring back the Start Menu.
Company CEO Steve Ballmer has previously hinted that no one actually needs a Start Menu since Windows 8 comes with much more than that. His indication leads to the newly arrived Start Screen. According to him, Start Screen is enough powerful in its capabilities as compared to lost Start Button followed by its Menu.
Unfortunately, till now, removing Start Button and Menu and introducing Start Screen is the most controversial feature debut ever created about Windows.
Like to listen from you guys!