We have already seen that Apple has updated the user interface (UI) for their Mac operating system with Yosemite iteration, released few weeks ago. The UI provided in Yosemite has a decent, simple yet awesome look. If by any chance we mix the perfection of our Windows operating system with Yosemite's UI, then we have a real treat for our computing machine.
Download "Yosemite Skin Pack" For Windows 7 Or Later
Our friend Hamed at SkinPacks has released the "Yosemite Skin Pack" that you can run on your Windows 7 or later running machine, and enjoy the look and feel of Yosemite, without purchasing a Macbook. This skin pack works on latest builds of Windows 10 too.
Following is the preview of a screen, after installing Yosemite Skin Pack on Windows: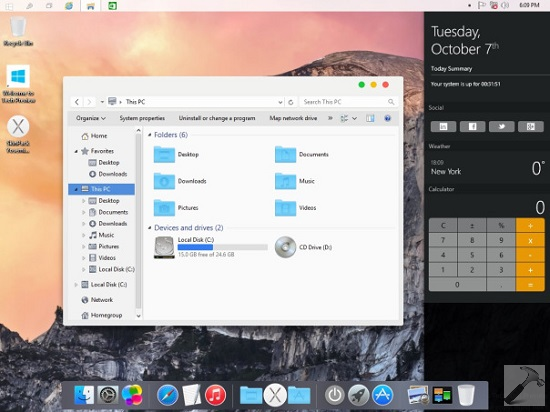 The above said free skin pack works on both 32-bit and 64-bit architectures and changes Windows themes, wallpapers, icons, docks, login screen, boot screen and replaces them with corresponding new interface elements. In other words, the skin pack simply enhances those elements.
You can download this skin pack using following link:
NOTE: The above featured skin pack is a third-party customization tool for Windows. We here strongly recommend all users to create a "System Restore" point before trying or using it. It will preserve an option to revert back to previous look in case you do not like the change or if something went wrong.
Enjoy the treat!