Today, I'm going to discuss about the most common issues that were experienced by new comers to Windows 8. These issues are really frustrating and share a lot of woes. They may be due to invalid system file integrity, invalid registries, invalid policies etc. Due to these issues, people are getting back to Windows 7, which is very ridiculous.
Download Microsoft Account & Windows Store Apps Troubleshooters
On Microsoft Community, nowadays I'm getting these issues regularly and they all are due to improper way to use Windows. For example, if you have set invalid policies, then certain apps won't work. On the other hand, if you have some invalid registries, then you may experience Microsoft accounts related issues.
So to sort out them, I'm going to introduce you with two powerful troubleshooters, here are they:
Microsoft Accounts Troubleshooter
Microsoft Account Troubleshooter is a special kind of fix-it, designed to deal the issues related with Microsoft accounts. When you run it, it will automatically detect common issues such as:
All settings sync incomplete
Microsoft account settings are corrupt
Can't connect to the sync service
Microsoft account required to sync settings
Unable to connect due to proxy or certificate Issue
Authentication information is incomplete
Check for roaming GPO enabled status
System time and date aren't correct
Problem with system registration
Signed in with a guest account or Roaming User Profiles enabled
Sync settings on this PC is turned off
You are not connected to the Internet
You have reached the daily sync quota
Check system not activated
Microsoft Accounts Troubleshooter is only available in English, but will work in all languages.You must be signed in as an administrator to be able to run the Microsoft Accounts Troubleshooter.
Just run the file download from below link and follow on-screen instructions. Once the troubleshooting has completed, you'll get the details: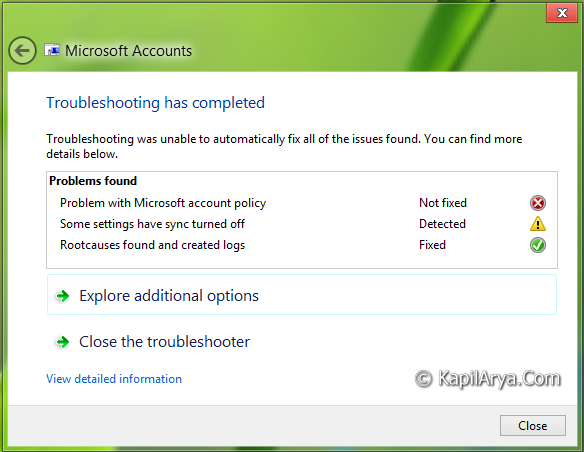 You can download Microsoft Accounts Troubleshooter using following link:
Hope you find it useful and it helps you to solve your issue related to Microsoft accounts…:)
Windows Store Apps Troubleshooter
The second type of troubleshooter is particularly helpful for the issue governing updates from Windows Store, or installation of apps from the same.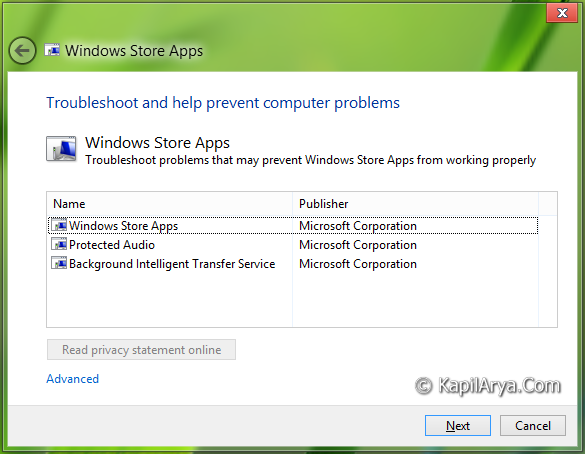 When you run the Windows Store Apps Troubleshooter, it will automatically check for the following common issues:
Protected audio is turned off
Some security settings are missing or have been changed
Service registration is missing or corrupt
Microsoft account required
Your system administrator has turned off some settings
Screen resolution is too low (at least 1024×768)
You are not connected to the Internet
User Account Control (UAC) has been disabled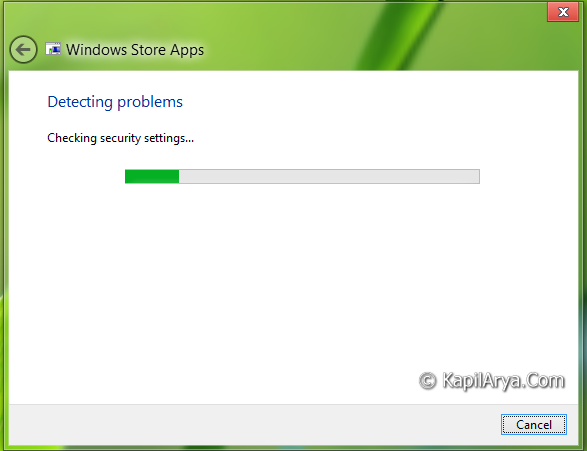 If you've upgraded your PC from Windows 7 and can't run Windows 8 apps, it is probably because you have a third-party antivirus program on your PC that is blocking the apps. Try uninstalling and then reinstalling the antivirus program.
If you're still unable to run apps, run the Windows Store Apps Troubleshooter. This tool can automatically find and fix some problems with apps. The troubleshooter will work on all languages but the text in the troubleshooter is only in English.
If one or more of your Windows 8 apps contain an "X" on the app tile on the Start Screen and won't open, try uninstalling and reinstalling one of the apps from the Windows Store.
You can download Windows Apps Troubleshooter using following link:
Hope you find this tool helpful as well. If you're still facing issues then please drop them here. We're happy to help you!