In our article posted earlier, we've seen what is User Account Control (UAC) in Windows and way to configure it. By default, UAC settings are set to recommended level and users are expected to continue using system with that. UAC helps Windows to block any unusual activity that may affect your system adversely.
When you set UAC to Never notify level, or disabled UAC in short, you may receive this notification:
You must restart your computer to turn off User Account Control
Click to restart this computer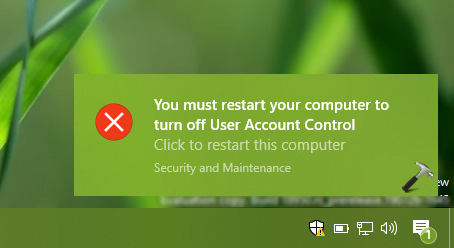 If you're the sole user on the machine and disabled UAC, you should be okay with above notification. Restarting your system will finally disable UAC on your system. However, if you don't disabled UAC but still receive this notification, you must be curious to know how did this happen. Well, it might be possible that someone else on the system has may have disabled UAC without your notice. You can fix this via below mentioned registry manipulation.
FIX: You Must Restart Your Computer To Turn Off User Account Control
Registry Disclaimer: The further steps will involve registry manipulation. Making mistakes while manipulating registry could affect your system adversely. So be careful while editing registry entries and create a System Restore point first.
1. Press

+ R and type regedit in Run dialog box to open Registry Editor (if you're not familiar with Registry Editor, then click here). Click OK.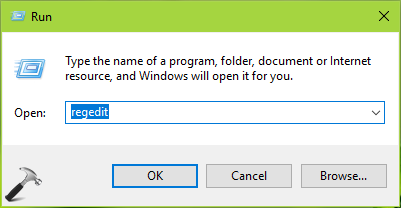 2. In left pane of Registry Editor window, navigate to following registry key:
HKEY_LOCAL_MACHINE\Software\Microsoft\Windows\CurrentVersion\Policies\System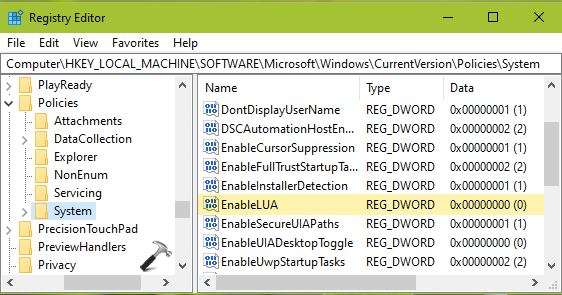 3. In the right pane of System registry key, double click on EnableLUA named registry DWORD (REG_DWORD) to modify its Value data.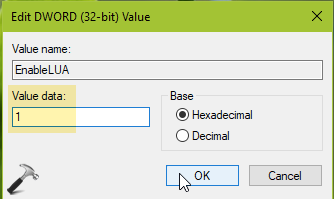 4. Set the Value data to 1 and click OK. Close Registry Editor and restart your system to make changes effective.
—–
Additional notes
If your system is part of a network, then there might be requirement to disable UAC. After disabling UAC, if you keep receiving You must restart your computer… notification, you need to instead follow these things. In case if the system is part of domain (or is a controller), you should disable UAC via Group Policy. Go to Computer Configuration > Policies > Windows Settings > Security Settings > Local Policies > Security Options and you can disable UAC settings from there.
—–
Checkout this video for to live demo of this fix:
Hope this helps!