NOTE: This method works with Windows 10 as well.
When you navigate through files and folders in File Explorer, there are some host processes going on in background. Due to these processes, you're able to view file thumbnails, and other information that may be needful. COM Surrogate basically can be treated as complimentary process which helps File Explorer to get objects on the go. Explorer generally triggers COM Surrogate when it has to extract content for a task.
So as a consequence of this, if something goes wrong, COM Surrogate process fails, it saves the Explorer from crashing and takes whole dependency on itself. Due to this, for Explorer, we can treat COM Surrogate as sacrificial process. Now the point here is what you need to do when COM Surrogate process fails. Here is the message you received when it happens:
COM Surrogate has stopped working
A problem caused the program to stop working correctly. Windows will close the program and notify you if a solution is available.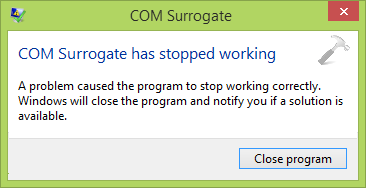 Here is how to bypass this error in few simple steps:
FIX : COM Surrogate Has Stopped Working In Windows 10/8.1/8
1. Press 

 + R and type sysdm.cpl in the Run dialog box. Click OK to open System Properties.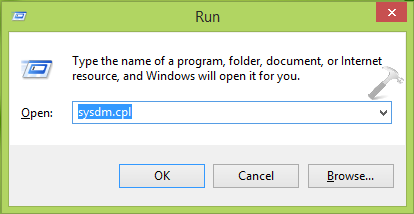 2. In the System Properties window shown below, switch to Advanced tab and click Settings under Performance section.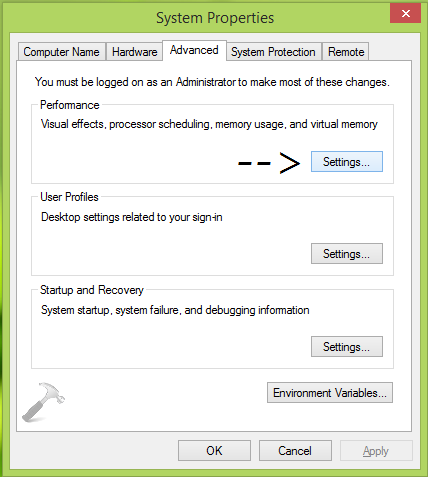 3. Next, in the Performance Options window, switch to Data Execution Prevention tab. Choose Turn on DEP for all programs and services except those I select:. Now click Add.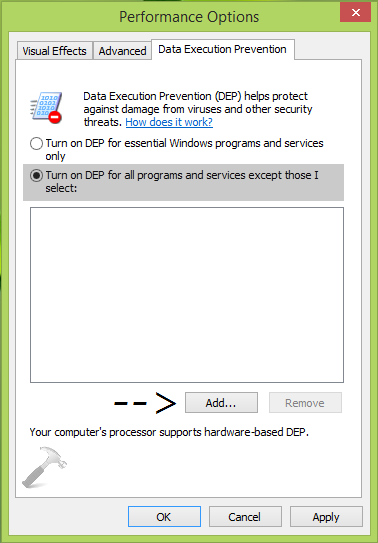 4. Finally, in the browse folder dialog box, type File name as dllhost.exe and click Open. Basically, you have to add C:\Windows\System32\dllhost.exe (assuming C: is system root drive) into exception list. Click Apply followed by OK in above shown window.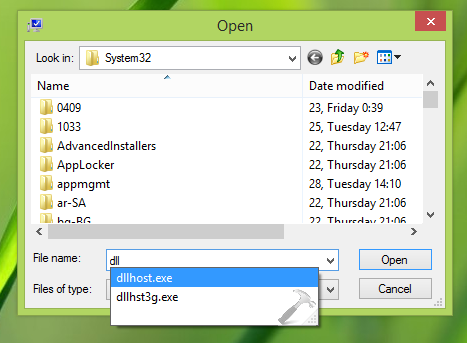 If you receive "
You can not set DEP attributes to 64-bit executables
" error at this stage, refer
this fix
.
After rebooting the machine, COM Surrogate has stopped working error will be suppressed.
Hope this helps!