Recently, we have seen how to fix the issue of COM Surrogate has stopped working error in Windows 8 or later, in following article:
FIX: COM Surrogate Has Stopped Working In Windows 8.1
The article will help you to carry out the steps and fix the problem easily on a 32-bit edition of Windows. However, if you use same steps mentioned there on a 64-bit architecture machine, you'll see following warning:
You can not set DEP attributes to 64-bit executables.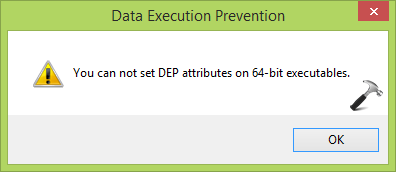 Hence because of this warning, you can't suppress the COM Surrogate has stopped working error on a 64-bit edition of Windows OS. One of our reader Matt McGrath has provided us the way to solve this problem. He slightly modified the approach we are using to set DEP attributes and this worked when we tested it. Here are the steps you need to try as per his approach:
FIX : You Can Not Set DEP Attributes On 64-bit Executables
1. Follow steps 1-3 of this article.
2. When you're at step 3 of that article and you click Add button, the file browser dailog will open, where you need to change Look in folder and set it to SysWOW64. Now type File name as dllhost.exe and click Open. In this way, you've added C:\Windows\SysWOW64\dllhost.exe (assuming C: is system root drive) into exception list.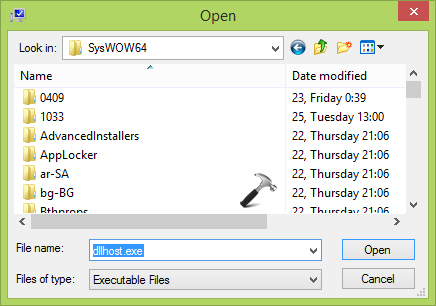 3. Click Apply followed by OK in below shown window.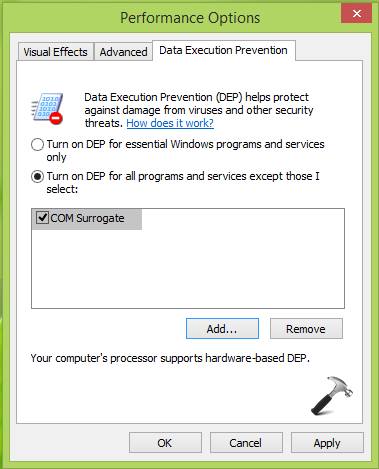 PS:  In case if you're getting COM Surrogate has stopped working error due a specific program and you're trying this fix so that the program work correctly, then we hardly suggest you to restore the original configuration in case if you stop using or uninstall that program for which you've tried the whole process. Restoring the original configuration here implies to set DEP settings to Turn on DEP for essential Windows programs and services only option. Restoring to default settings will enhance your system security.
Hope this helps! Thanks to our reader Matt McGrath for this trick.