Windows uses Dynamic Link Libraries (.dll files) which contains set of functions and data that other programs can use. So a DLL error may appear to any Windows user with any kind of program that he may use. This article talks about the DLL error which is related to Windows Shell Common DLL i.e. shell32.dll file.
Recently, we came around this error as while using a program, following message displayed.
Windows Shell Common Dll has stopped working
A problem caused the program to stop working correctly. Windows will close the program and notify you if a solution is available.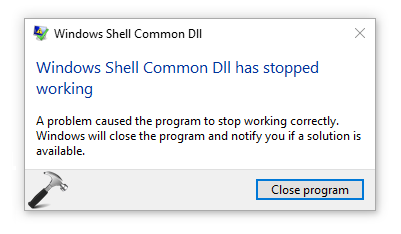 Though Windows automatically checks for a solution to this problem but it usually fails to find one. As per above message, it promises you to notify when it finds the solution to this problem, but this rarely happens. So if you're experiencing this error frequently, you need to fix it from your side.
Here are the suggestions you may try to fix this problem:
FIX : Windows Shell Common DLL Has Stopped Working In Windows 10/8/7
1. Most probable cause for this issue is corruption or problems with Windows Shell Common DLL. Best way to fix this corruption is to run SFC scan. In case if SFC fails, go ahead with DISM commands.
2. Run System Maintenance troubleshooter and see if helps you anyway in this case.
3. Install latest updates available to you.
4. Update all the system drivers on your system using Device Manager. Because this problem may occur due to outdated driver which might be incompatible with shell32.dll.
5. Try creating a new user account and check if you face the issue on that account. If not, copy your data to new user account and start using it. In case if you want to stay with current user account, run Microsoft Accounts troubleshooter.
6. Users experiencing this on a Windows Insider build under testing may update to newer build and see if that helps.
7. Facing this issue on Office/Outlook 2016? Try renaming olmapi32.dll file located at C:\Program Files\Microsoft Office\root\Office16 folder (assuming Windows is installed on C:). Then repair Office offline.
8. Perform Windows 10 Refresh or in-place upgrade, if problem continues anyway.
Let us know, if above mentioned suggestions helps you or if you know anything else to fix this!