Many of you might be aware of auto-hiding taskbar and used this function in previous version of Windows. In Windows 10, we have observed that some of the users are just not able to auto-hide taskbar. So for them, whether Auto-hide the taskbar option in Taskbar and navigation properties is checked or not, it have same effect. Ideally, the auto-hide should work in this manner:

But if it is not working for you, then we've some suggestions to fix this problem in this article. For a general case, you should first try to remove third-party software installed on your system – in case if something is blocking this native functionality. Then you should run SFC /SCANNOW command in administrative Command Prompt and see if it helps. If the issue still persists, you can try these ways:
FIX : Taskbar Won't Auto-hide In Windows 10
Way 1 – Restart Explorer using Task Manager
Restarting the Explorer has worked for many users facing this issue. If you're auto-hiding taskbar for the first time, this should help you. In order to restart File Explorer, press Ctrl+Shift+Esc key combination on your keyboard, which would open Task Manager.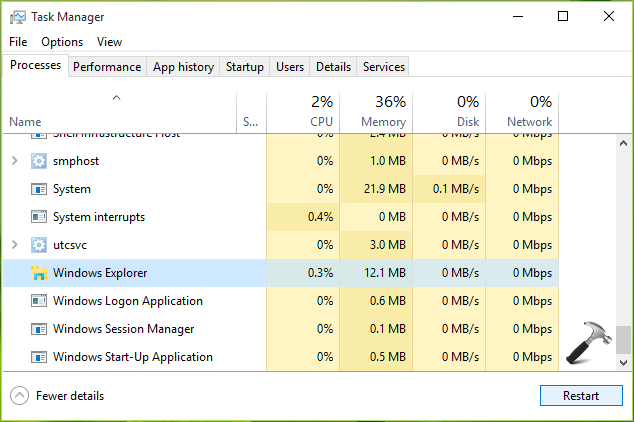 Then in the Task Manager window, switch to Processes tab. Scroll down to bottom and look for the Windows Explorer process and click/tap it, then click/tap Restart button. This should restart Explorer plus fix the auto-hiding issue for taskbar.
Way 2 – Using Show Desktop button or shortcut to show Desktop
We all know that pressing 

+ D key combination brings Desktop screen, irrespective of what screen we're working on. This shortcut will help us here to auto-hide the taskbar. You can also click/tap on Show desktop button next to clock in the taskbar and it should do the same job.
Recommended: Ultimate collection of keyboard shortcuts for Windows 10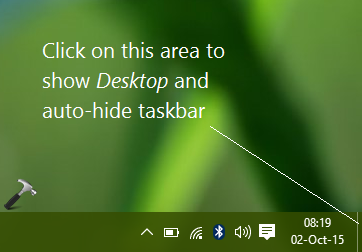 In this way, you can try either of the ways to fix the problem of auto-hide not working in Windows 10.
That's it!