Airtel, a leading mobile network in India has been my closed companion since I started using cellphone. I'm using it for more than 7 years and it has worked great in this session. Although, I switched to Idea cellular especially for data connectivity solutions, as they're excellent for that. But still for now, Airtel is what I've use as an alternative mobile network and for having secondary data solutions.
Well, I've observed that some of the older SIM of Airtel aren't capable of detecting 3G network signals, even on 4G compatible smartphones. Airtel has launched 3G services in many of its circles in India and network is enough good if you can invest in a 3G network plan. While, if I've activated a 2G plan on my Airtel SIM and if I do a network search, there are no signals of 3G. On the same note, 3G signals of other network are showing.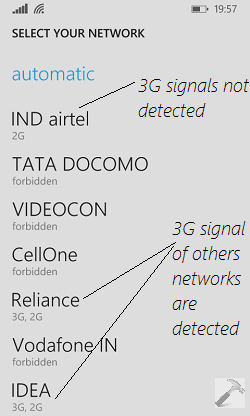 This clearly indicates that there is some problem with Airtel only. Now you'll find it frustrating that your 4G compatible smartphone couldn't detect even 3G signals of Airtel, and recharge retailer in your locality is already is offering a 3G recharge. Here are the points in that could put you in this scenario:
You've an very older Airtel SIM
3G network of Airtel in your region is not strong enough
Of course, if you'd consult this problem with Airtel, they'll suggest you to buy a 3G plan and check. And since your mobile can detect 3G signal of other networks, this is not the smart phone problem, clearly. But there is working trick that could help you in this issue, so that you can receive 3G signals even when you're using a 2G data plan. That trick is to activate zero rental 3G data plan and let it run side-by-side of a 2G plan. Following that, you'll have following advantages:
You'll have two routes to exchange data, 2G and 3G
Your calling quality will definitely enhance, since 3G network is maintained quite good by Airtel
You don't need to invest in a 3G plan and you get 3G speed at 2G rate
Now here is what you need to do exactly:
How To Get 3G Network Speed At 2G Data Plans On Airtel
1. Point your browser to following link, and download the My Airtel app for your smartphone:
2. Next, set up the app for your mobile number. For that enter you mobile number, you'll receive an One Time Password (OTP) via SMS. Enter that to verify you identity. Now you'll reach the screen shown below, where you have to tap your mobile number.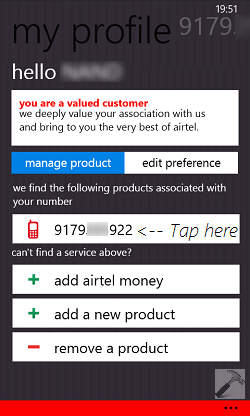 3. Moving on, next you'll see the services Airtel is offering for you. Click on the 3G icon at the bottom of screen. You'll receive "3G is not active" message with an Activate button. Hit the button, don't worry there will be deduction of any balance here.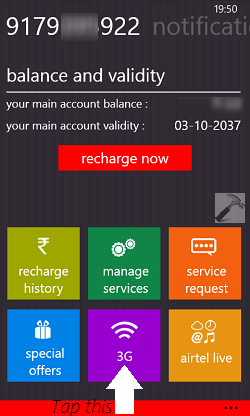 4. Finally, you'll get an SMS from Airtel that your 3G activation request is in process and you'll get an confirmation message when 3G is activated. But you won't receive any 3G activation confirmation, except this request confirmation message: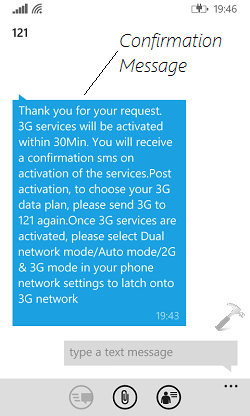 However, good thing is that if you check for 3G networks in after some time, you'll find that you can now receive 3G signals without any problem: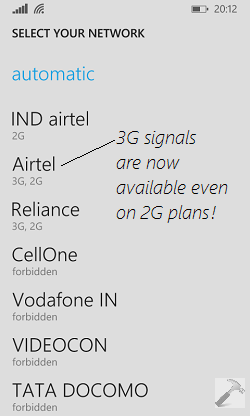 So from now, you can enjoy your 2G plans at 3G speed by selecting the 3G network, and without paying anything for the name of 3G! Enjoy…