2. In the left pane of Registry Editor, navigate here:
HKEY_CURRENT_USER\Software\Policies\Microsoft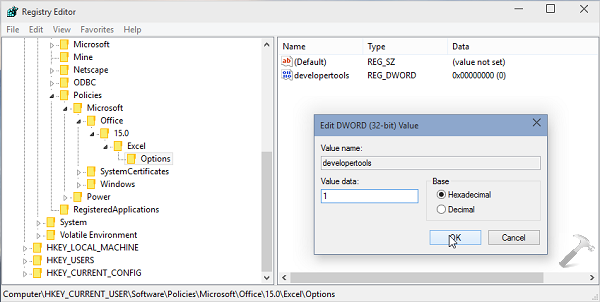 3. In the left pane of above mentioned location, right click Microsoft key and select New -> Key. Name the newly created key as Office. Similarly create sub-key 15.0 (name it 14.0 if you're working for Office 2010) to Office key. Again create sub-key to 15.0 and name it Excel, PowerPoint, Word, InfoPath, Visio or Project – means you need to give the same name of component to key for which you're enabling DEVELOPER tab. In our case, its Excel, hence we named the key as Excel. Finally, create sub-key to Excel and name it as Options.
4. Highlight Options and come to its right pane such that registry location becomes HKEY_CURRENT_USER\Software\Policies\Microsoft\Office\15.0\Excel\Options and do a right click in blank space. Select New -> DWORD Value and name the registry DWORD as developertools. Double click this newly created DWORD and put 1 to show DEVELOPER tab, else 0 to hide it. Close Registry Editor and reboot to make changes effective.
Checkout the live illustration:
That's it! Also checkout how to disable animations in Office 2013.