We have quoted many times that Microsoft Office 2013 is full of the features, you require to complete your day-to-day work. Thus using the available features, you can make most of your Office applications. However, if you're from developer stream, there are some more features available for you in this suite. These features comes under the DEVELOPER tab in ribbon of Office 2013 applications.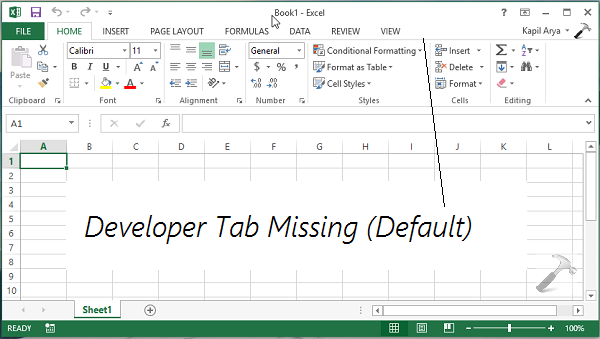 Office 2013 is shipped with this DEVELOPER tab hidden by default. However, you can customize your Office settings to enable this in Office 2013 applications (except Microsoft Access). Following are the features you receive when you enable DEVELOPER tab:
Create applications to use with Microsoft Office 2013 programs
Use form controls in Microsoft Excel 2013
Write and run macros that you've previously recorded
Work with the ShapeSheet in Microsoft Visio
Create new shape and stencils in Microsoft Visio
So if you're looking to use the above mentioned facilities, you must enable DEVELOPER tab to make your work easy.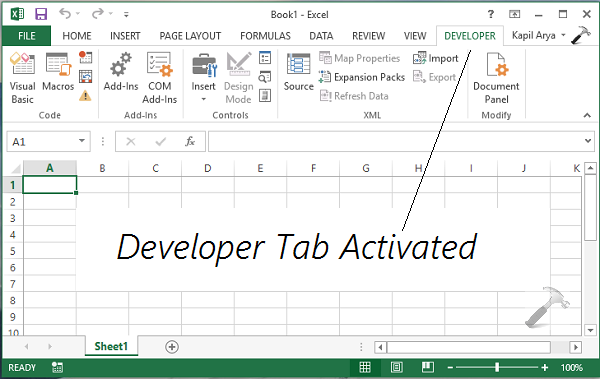 The how-to part is mentioned below, in which we have illustrated it for Excel 2013. You can similarly apply it for other components.
How To Enable Developer Tab In Office 2013
WAY 1 – Manually Via Excel Options
1. Open Excel 2013 and click FILE.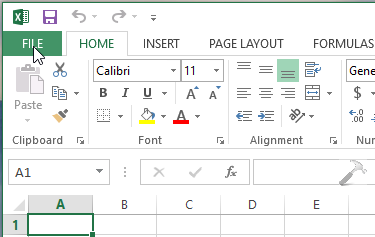 2. Next, in the following window, click Options.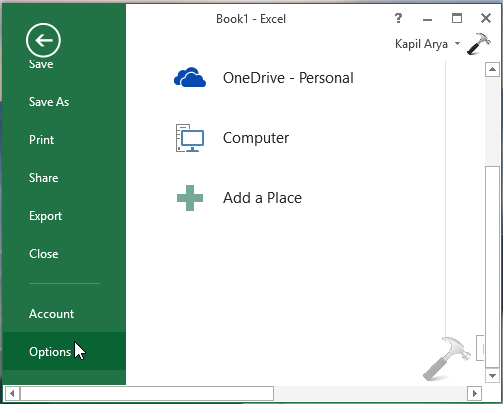 3. Moving on, in the Excel Options window shown below, click Customize Ribbon in left pane. Then in the right pane, under Main Tabs heading, check the Developer option. Click OK.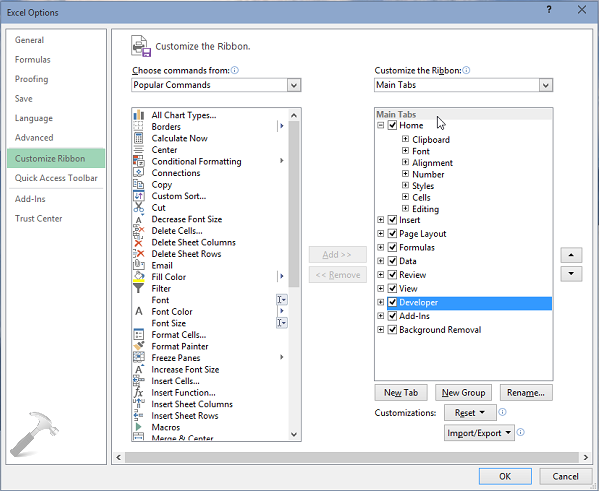 Thus you can now return to window shown in step 1, where you'll find the DEVELOPER tab in ribbon.
WAY 2 – Using Registry
Registry Disclaimer: The further steps will involve registry manipulation. Making mistakes while manipulating registry could affect your system adversely. So be careful while editing registry entries and create a System Restore point first.
1. Press

+ R and put regedit in Run dialog box to open Registry Editor (if you're not familiar with Registry Editor, then click here). Click OK.