Good news for Office fans here! Microsoft has recently released update of their latest Office iteration i.e Office 2013 aka Office 365. This update is named as Service Pack 1 (SP1). The update inclusively focuses on the fixes and clear out the troubles which the users faced in Office 2013. After installing the update, you may find that your Office 2013 is more stable, improved with better compatibility.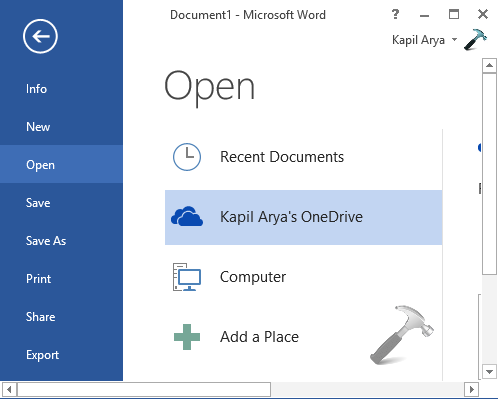 We all know that Microsoft re-branded SkyDrive to OneDrive, thus in SP1, you'll find that default cloud storage is changed to OneDrive. This service pack includes two kinds of fixes:
Previously unreleased fixes that are included in this service pack. In addition to general product fixes, these fixes include improvements in stability, performance, and security.
All the monthly security updates that were released through January 2014, and all the Cumulative Updates that were released through December 2013.
Microsoft Office 2013 Service Pack 1 : FIXES
Following are the issues that are fixes by this SP1:
Can't hear the first few words that a caller speaks when they answer a call in Lync 2013
The "Program Events" sound setting is reset to the default value after you restart Lync 2013
Can't rotate the screen orientation of a video window in a Lync 2013 video conference on a Windows 8.1-based device
A pie chart clock icon appears in the "Conversations" tab as a meeting icon in Lync 2013
Microsoft Office 2013 Service Pack 1 : New Features
The update will provide you following new features:
Better compatibility with Windows 8.1 and Internet Explorer 11.
New apps for Office capabilities and APIs for developers.
Better support for high DPI devices, precision touchpad and other modern hardware.
SkyDrive Pro is now OneDrive for Business.
Power Map for Excel, a 3D visualization tool for mapping, exploring, and interacting with geographical and temporal data in Excel, is now available to Office 365 Pro Plus subscription customers.
Improvements to the Click-to-Run virtualization technology that installs and updates Office 365 desktop applications.
Includes previously released updates and fixes.
The SP1 would reach you through latest Windows Updates on your system, its included in KB2817430and it takes you to Office version 15.0.4569.1506. Although, if you want to download standalone packages, you can use following direct download links:
Download Microsoft Office 2013 SP1 [32-bit]
Download Microsoft Office 2013 SP1 [64-bit]
The update is applicable to Windows 7, Windows 8, Windows 8.1, Windows Server 2008 R2, Windows Server 2012 and Windows Server 2012 R2 operating systems.
Hope you find it useful!