We all know that using Microsoft Office in Safe Mode is really helpful when we don't want to face the unresponsiveness from its components. Safe Mode, as the name implies gives you the possible safest options available so that you can use Office without any hitch. Recently, one of my reader reported me that he is unable to use any of the Office component in the normal mode. But when he run these components in the Safe Mode, they just works fine. He was using Office 2013 on Windows 7.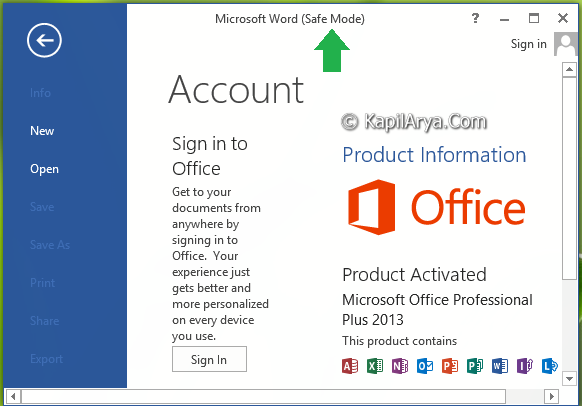 He tried to disable the add-ins but that doesn't helped him either. The problem is that when he tries to open the component program in normal mode, the program either became unresponsive or crashes. This happened with not only a single component but with all the components installed. Then, how to fix this weird issue? Well, I suggested him following registry fix and it worked like a charm for him.
If you too are facing this issue, then please do follow this:
FIX : Office 2013 Works Only In Safe Mode
Registry Disclaimer: The further steps will involve registry manipulation. Making mistakes while manipulating registry could affect your system adversely. So be careful while editing registry entries and create a System Restore point first.
1. Press

+ R and put regedit in Run dialog box to open Registry Editor (if you're not familiar with Registry Editor, then click here). Click OK.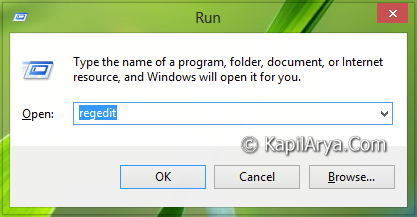 2. Navigate here:
HKEY_CURRENT_USER\Software\Microsoft\Office\15.0\Common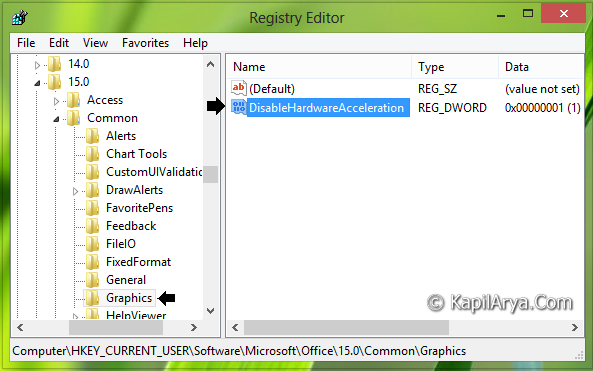 3. In the left pane of above shown window, right click on the Common key, navigate New -> Key. Name the newly created key as Graphics. Now came to the right pane of this Graphics subkey (HKEY_CURRENT_USER\Software\Microsoft\Office\15.0\Common\Graphics) and create a new DWORD value using Right click -> New -> DWORD Value. Name the DWORD so created as DisableHardwareAcceleration. Now double click on the same DWORD to get this: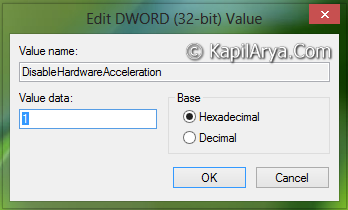 4. In the above shown box, put the Value data equals to 1. Click OK. You may now close the Registry Editor and finally reboot to get the issue fixed. After restarting the machine, you'll find that all Office components are working perfectly in normal mode as well.
That's it!