If you can't login using Microsoft account (MSA) to your Windows, we've earlier shared a fix for this problem in this article:
Fix: "You can't sign in to your PC right now" in Windows 8 or later
Today, we're back with yet another similar issue that could trouble you while signing into your Windows 10. Under this case, following message will appear during or after sign-in:
We can't sign into your account
This problem can often be fixed by signing out of your account, then signing back in. If you don't sign out now, any files you create or changes that you make will be lost.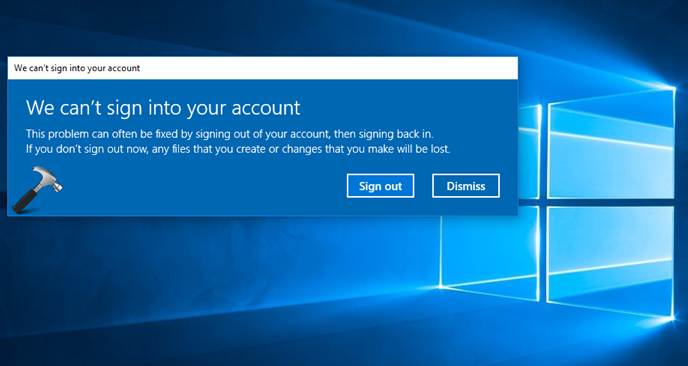 From past experiences, we found that "Sign out" and "Dismiss" button provided on this error message never solves the problem. Thus the victim of this issue is helpless until he understands the error message. As per the message, it is quite clear that Windows was not able to sign-into your account, and all documents will be lost for the current session, when you sign-in back next time. This indicates that Windows couldn't resolve an unknown issue with your account and it has no other option but to log in you as a temporary user.
You can deal this issue using the steps mentioned here:
FIX : We Can't Sign Into Your Account In Windows 10
1. First of all, follow all the steps of this article to remove yourself from temporary profile loop.
2. Sign-in back to your account. This time you must be able to login as a normal user instead of temporary user. To suppress issue in future instances, go ahead with below steps.
3. If you've switched to MSA, try switching back to local user account. Now reset the MSA password, using steps mentioned here. Then switch back to MSA from local account.
4. Verify the identity of your MSA and if possible, add a multi-factor authentication to secure your account.
5. Now run the Microsoft Accounts troubleshooter. It should fix the remaining issues (if present) for you.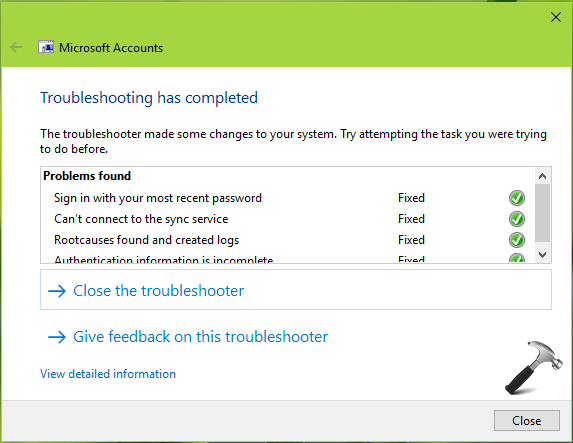 6. Add a PIN or Picture Password as alternate sign-in option and make yourself habitual to use either of these to sign-in to Windows, instead of a password. From personal experience, we've seen very less trouble with the accounts, when we use PIN rather than password.
We hope after trying these measures, you won't be able to encounter the error again.
Check following video to illustrate this fix:
Hope this helps!

Related: We can't sign you with this credential because your domain isn't available.