We all know that starting with Windows 8, your system can have local account or Microsoft account. In Windows 10, many features requires you to sign in with Microsoft account. We've also seen this guide to convert the local account to Microsoft account and revert back, if needed.
Now if you're facing trouble with your Microsoft account, you can try the official Microsoft Accounts troubleshooter.
Microsoft Accounts Troubleshooter In Windows 10
Microsoft Account Troubleshooter is a special kind of fix-it tool, designed to deal the issues related with Microsoft accounts. This will be a big help to those users who are facing problems using Microsoft account but don't know how to rectify them.
When you this tool, it will automatically detect common issues and try to correct them, such as:
All settings sync incomplete
Microsoft account settings are corrupt
Can't connect to the sync service
Microsoft account required to sync settings
Unable to connect due to proxy or certificate Issue
Authentication information is incomplete
Check for roaming GPO enabled status
System time and date aren't correct
Problem with system registration
Signed in with a guest account or Roaming User Profiles enabled
Sync settings on this PC is turned off
You are not connected to the Internet
You have reached the daily sync quota
Check system not activated
Microsoft Accounts Troubleshooter is only available in English, but it should work with other language installations. You should signed in as an administrator to get better results with Microsoft Accounts Troubleshooter.
You can download Microsoft Accounts Troubleshooter using following link: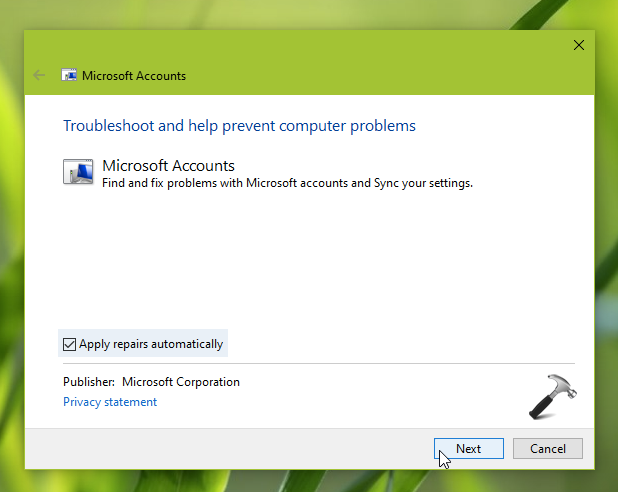 Just run the file downloaded and on welcome screen, click Advanced > Apply repair automatically and click Next. Once the troubleshooting has completed, you'll get the details as shown in below screenshot.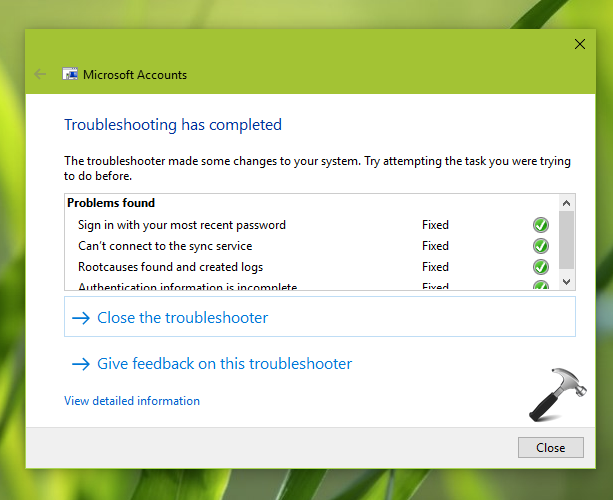 Hope you find it the tool useful!
You may also like:
1. FIX: Can't Connect To The Sync Service
2. How To Link Microsoft Account To Your Windows 10 Digital License
3. How To Verify Your Microsoft Account In Windows 10