We all know, firewall monitors and control incoming/outgoing network traffic on our systems with the help of predetermined security rules, call firewall rules. The Windows Firewall was available in previous Windows editions as well, but with Windows 10, it is renamed to Windows Defender Firewall. With Windows 10 V1703 or later, this firewall is well integrated with Windows Defender/Windows Security.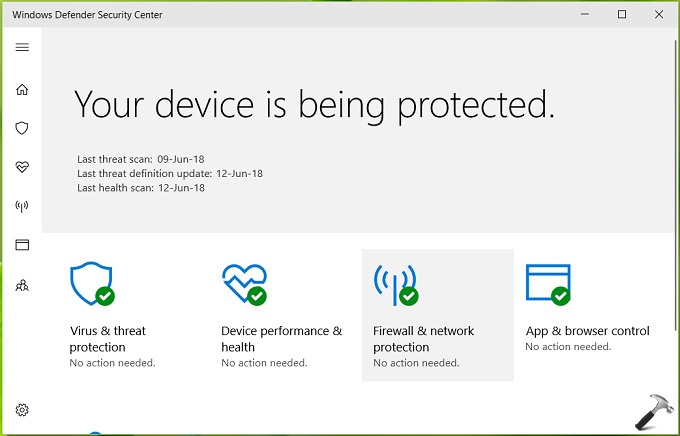 You can configure the firewall settings from Windows Defender/Security dashboard by clicking Firewall & network protection tile. However, to fully configure and adjust adds with Windows Defender Firewall, check below mentioned detailed steps.
How To Configure Windows Defender Firewall In Windows 10
PART 1 – Enable/Disable Windows Defender Firewall In Windows 10
1. Open Control Panel using Cortana or Windows Search. Click System and security link.
2. In System and Security window, under Windows Defender Firewall, click Check firewall status.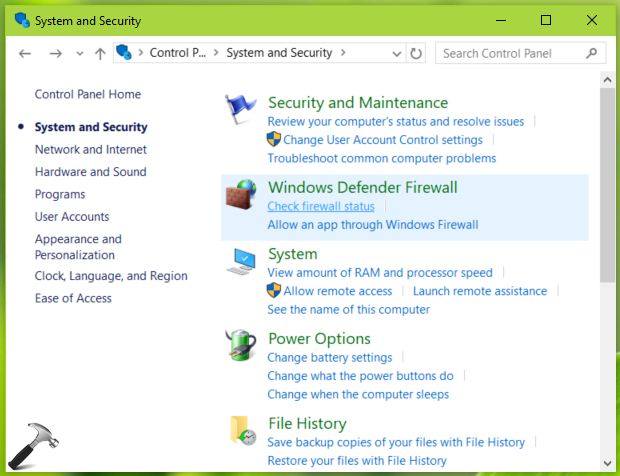 3. Next, in Windows Defender Firewall window, click Turn Windows Defender Firewall on or off link.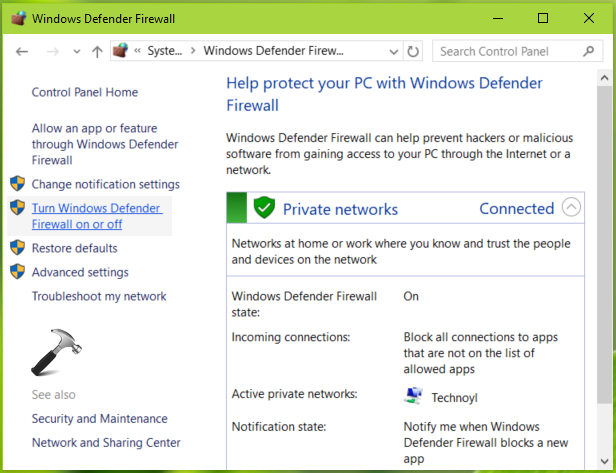 4. On the next window, you can enable or disable Windows Defender Firewall, for public and private networks.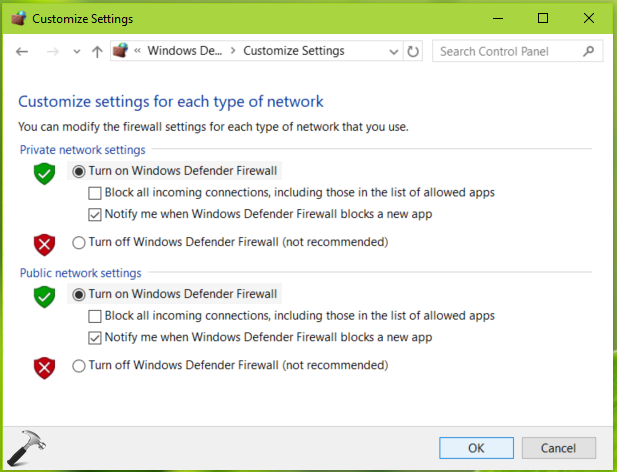 After making your choice, hit OK to save the settings.
PART 2 – Allow/Prevent Apps Through Windows Defender Firewall In Windows 10
1. Open Control Panel, go to System and Security > Windows Defender Firewall. Click Allow an app or feature through Windows Defender Firewall link.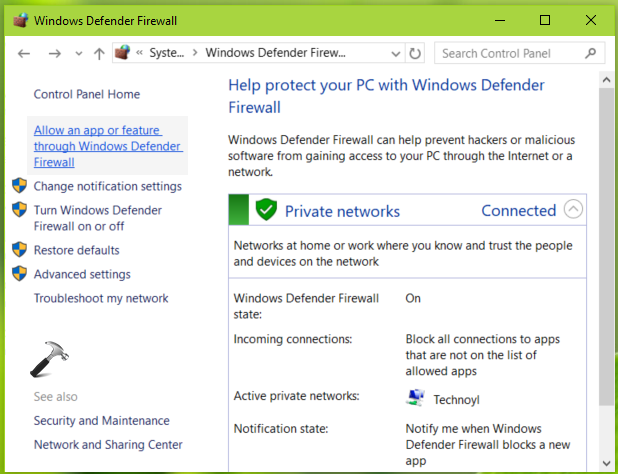 2. On next window, click Change settings. If you're asked for your account credentials, provide them.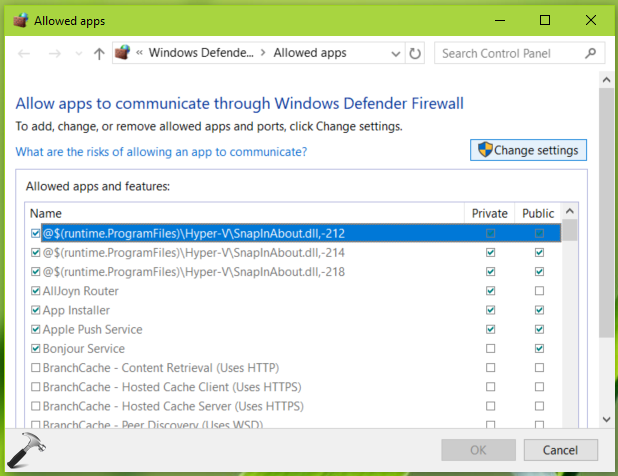 3. Then in the same window, you can check mark which app to allow/block on which network (public or private). To add new app to this list, scroll down and click Allow another app button.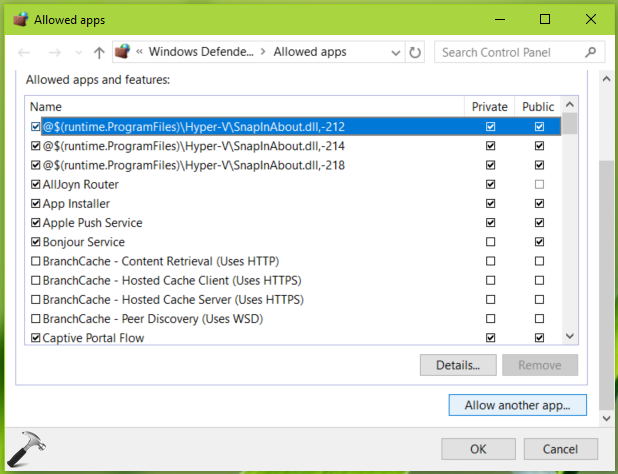 4. Now, click Browse on the Add an app window.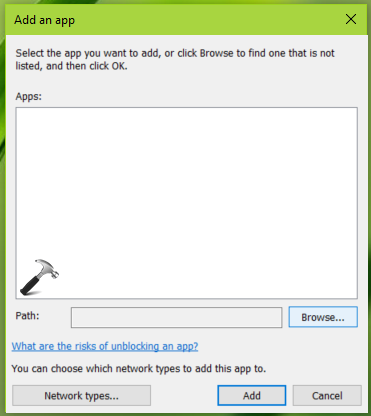 5. Using File Explorer, browse for the application. Once you locate it, click Open.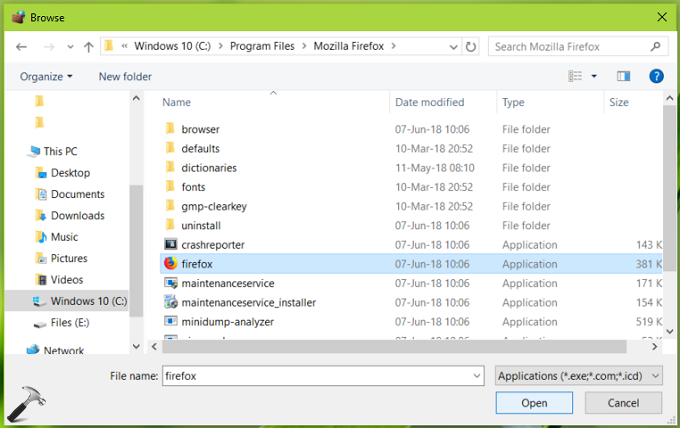 6. Finally, click Add and the selection application will be added to Windows Defender Firewall list. You can then manage this and previously listed apps in the same manner.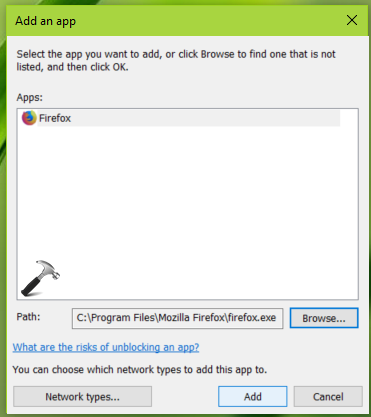 So this is how you can configure Windows Defender Firewall in Windows 10.
That's it!