Earlier, we've shared you following guide to configure Windows Firewall.
How to configure Windows Firewall in Windows 10
On Windows 10 V1703 or later, Windows Firewall is renamed to Windows Defender Firewall. If Windows Firewall is not working correctly for you, this article might help. Always ensure that, Windows Firewall must be properly configured and should remain in active stage. If it is not working, your system becomes less secure and is vulnerable along with your network, if you're using any.
Using Windows Firewall Troubleshooter In Windows 10/8/8.1/7
Microsoft has addressed issues related to Windows Firewall and provided a dedicated troubleshooter for this. The troubleshooter is called Windows Firewall troubleshooter and it can be downloaded from Microsoft Support site at this link.
The link will provide WindowsFirewall.diagcab file which you can either choose to open with Diagnostics Troubleshooting Wizard or you directly run the file and it will open the troubleshooter presenting below shown screen.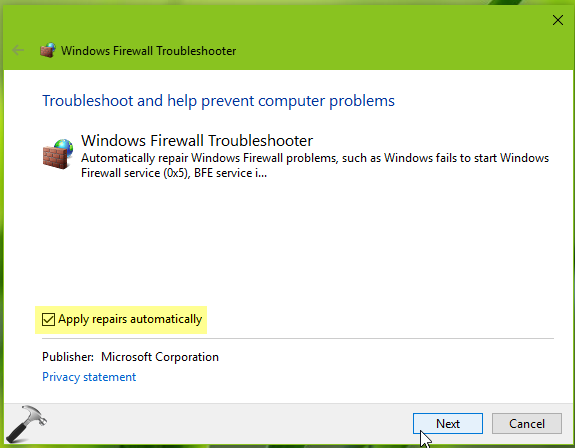 Just check Apply repairs automatically option and click Next, troubleshooter will automatically find and fix issues.
The troubleshooter will check for following issues and correct them:
1. Cannot access shared files and printers: You cannot access shared files and printers even though you have enabled File and Printer sharing in Windows.
2. Remote Assistance is not working: Remote Assistance is not working even though you have enabled Remote Assistance in Windows.
3. Windows could not start Windows Firewall: Checks if Windows Firewall service is not running on Windows. When you try to manually start the service, if you receive the "Windows could not start the Windows Firewall, DHCP client, or Diagnostic Policy on Local Computer" error message, the troubleshooter will help you to fix that.
4. Windows Firewall service is not started: Fixes if Windows Firewall service is not running or is not started.
5. Windows Firewall isn't the default firewall.
6. Base Filtering Engine (BFE) service is missing: This service manages Firewall and Internet Protocol security (IPsec) policies and implements user mode filtering. Even stopping or disabling the BFE service will significantly reduce the security of the system. It will also result in unpredictable behavior in IPsec management and Firewall applications. So you can imagine if the service itself is missing, how risky it is.
7. Firewall won't start (Error Code 80070424) .
We hope the issue you're facing with Windows Firewall is corrected by this dedicated troubleshooter!
Also check: Windows USB troubleshooter for Windows 10.