Recently, someone had a problem with Microsoft account (MSA) owned by him. Actually, for some anonymous reason, he ended up with 2 MSA but in fact he wanted just one. So he asked in forums that can he merge the 2 MSAs to make it one MSA which is handy to use. But it is not possible to merge MSAs atm. So the solution was to close either of multiple MSA.
But how you do close or deactivate your MSA permanently? Well, this is the question we'll try to answer you in this article.
How To Deactivate Your Microsoft Account
Before Deleting Your Microsoft Account
When you opt to delete your Microsoft account (MSA), you need to be carefully back up all your data in advance. Once you delete your MSA, all the associated profiles with it on Microsoft products such as OneDrive, Windows, Skype, Xbox etc. will be also be deleted. So try these things first:
Backup all the data from your email account and essentially backup contacts.
Backup all the data from profiles on Microsoft products which is associated with the MSA you're about to delete
If you've linked your Windows 10 digital license to MSA, unlink it. Then link the your Windows 10 digital license to another MSA.
Switch to local account or other MSA from your current MSA.
Deactivate Your Microsoft Account
If you're pretty sure that you've backup all the data associated your Microsoft account (MSA) and disconnected all devices from it, you can now close your MSA. Perform these steps then:
1. Visit this link which takes you to MSA closure page. First you've correctly sign in to your MSA account which is about to delete. After sign-in, you'll the get the page shown in below screenshot. Click Next.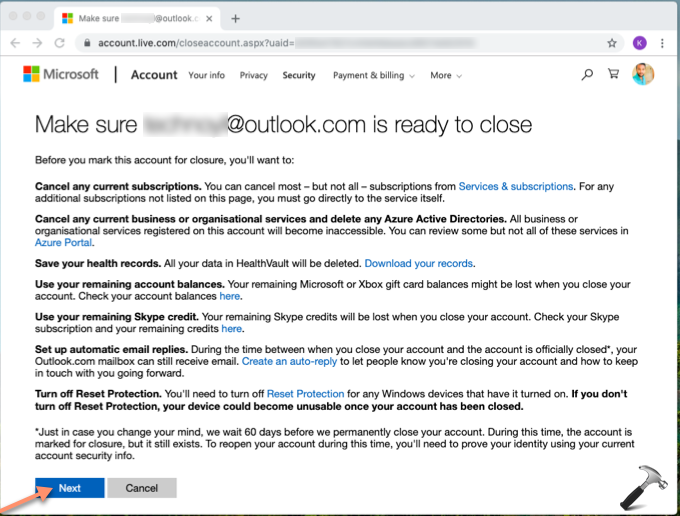 2. Then in next page, you'll need to acknowledge the points and check mark all of them. Also tick the confirmation and provide a valid reason for closing your account. Finally, click Mark account for closure.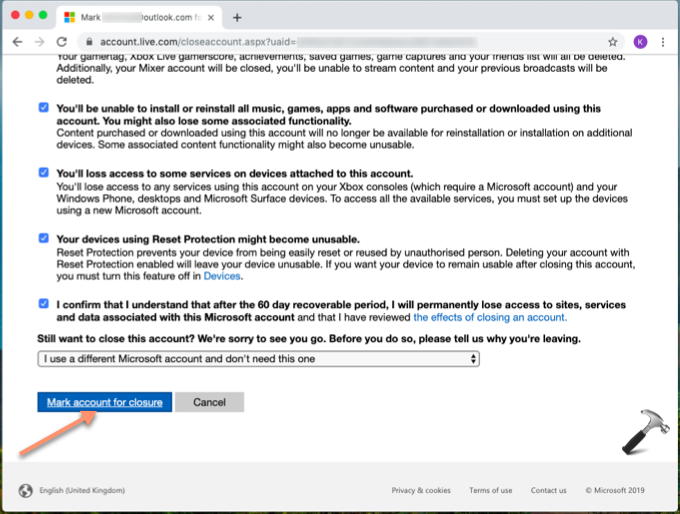 3. Your MSA will now be deactivated or you can call is as 'soft delete'. Microsoft will give you 60 days recoverable period (from the time you mark account for closure), so in case you change your mind later, you can recover your account in this time frame. Once the 60 days recoverable period is over, your account will permanently deleted.
So this is how you can deactivate or close your MSA.
Hope you find the article useful!
Related: Use Identity Verification App To Protect Your Microsoft Account.