In Microsoft Office 2010 Upload Center, you can monitor files that you upload to a server. What makes the Upload Center is a characteristic called Efficient File Transfer (EFT), the diminution of bandwidth utilization between SharePoint 2010 and Office 2010 applications contribute. After complete uploading a file to the SharePoint 2010 site, a local copy of the file in Microsoft Office Upload Center kept (in the buffer for Office documents). This copy is then divided into smaller units for processing. This splitting is also in the file that was uploaded to the SharePoint site. If you make to the local copy of the file changes that are sent by EFT only the changes to the SharePoint site. The result files can be opened quickly, and you can work with the file before it is fully downloaded.
How To Use Microsoft Office 2010 Upload Centre
The Microsoft Office Upload Center open by clicking the icon which is given for the Microsoft Office Upload Center in the notification area, click, or another way is by selecting it from the Start menu on (Start ->Microsoft Office ->Microsoft Office 2010 -> Tools -> Microsoft Office 2010 Upload Center).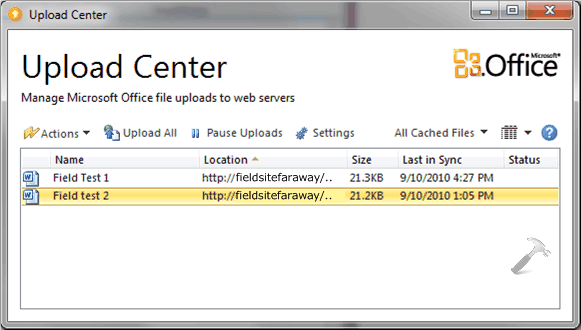 In Microsoft Office Upload Center lists all files that have been cached. The user can monitor the status of files that are being uploaded. They also can identify cache settings, such as to conclude how long the cached files are stored and will be deleted all essential cached files.
Remove Microsoft Office Upload Center Icon From Desktop
When you install Office 2010, Microsoft Office Upload Center installed automatically. If you prefer, you can delete its icon from the desktop:
1. Click on the taskbar or in the notification area, right-click the icon, Office 2010 Upload Center.
2. Select Settings.
3. Uncheck the "Display icon in notification area" option in Display Settings section, and then click OK.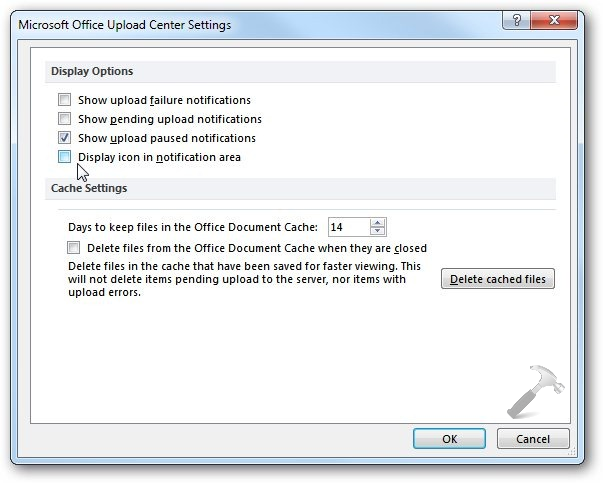 In this way the icon no longer appears on the taskbar and notification area.
That's it!