Meet Content Advisor Feature In Internet Explorer
Content Advisor is the inbuilt feature of Internet Explorer that allows you to view the content across web. It is a tool for controlling the types of content that your computer can access on the Internet. After you turn on Content Advisor, only rated content that meets or exceeds your criteria can be viewed. You can adjust the settings to suit your preferences. In Internet Explorer 10+, Content Advisor is disabled by default.
Now, consider a scenario, suppose you have enabled the feature but later you want to make some modifications to the filtering done by Content Advisor; and unfortunately you forgot the password! This became the cumbersome situation, because every time you'll visited a non rated site, Internet Explorer will keep asking to view it. Also you'll need the supervisor password (also called as administrator password) even to disable the feature itself.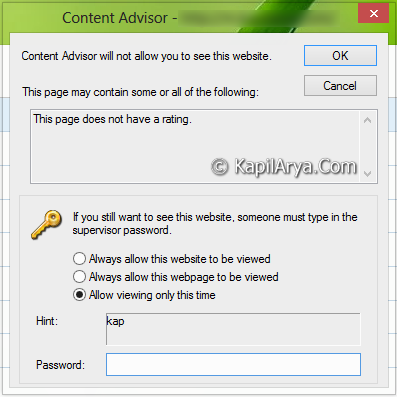 The restoration of password became the work of pain because there is no email address connectivity with this feature is available on which you can get a password reset link. Then how to reset the supervisor password? Well, there is a technical yet simple way to do this. So without wasting your time anymore, lets see the way to reset…
Reset Supervisor Password Using Registry Editor
1. Press

+ R and put regedit in Run dialog box to open Registry Editor (if you're not familiar with Registry Editor, then click here). Click OK.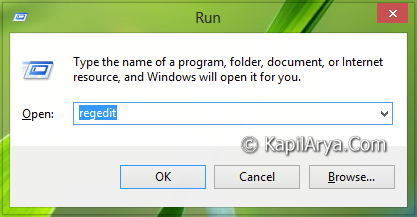 2. Navigate here:
HKEY_LOCAL_MACHINE\SOFTWARE\Microsoft\Windows\CurrentVersion\Policies\Ratings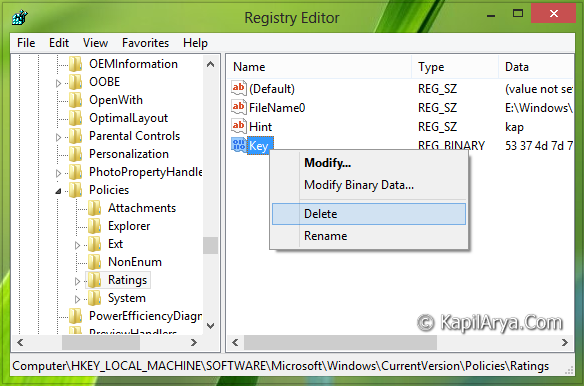 3. In the right pane of this location, look for the Binary DWORD (REG_BINARY) named Key. Right click on this DWORD and select Delete. You may now close the Registry Editor.
4. Moving on, now press

+ R, type inetcpl.cpl in the Run dialog box and hit Enter. Switch to Content tab in the Internet Properties window: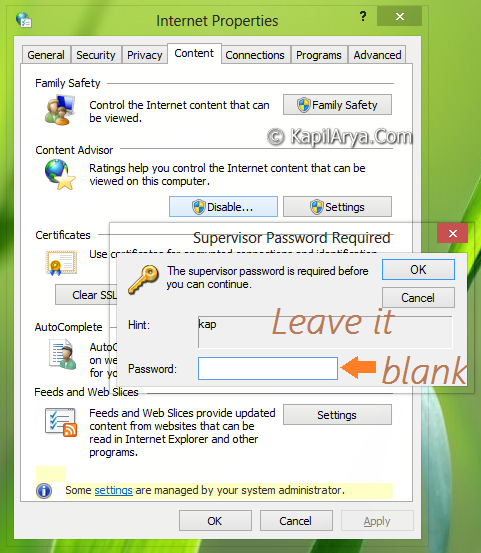 5. Now under the Content Advisor subheading, click on Disable. As usual, the feature will ask you to enter the Supervisor password. This time leave the password field blank and click OK. It should work on, thanks to registry modification we've made in step 3. In this way, Content Advisor feature got disabled, so you can now re-enable it and set up a new password or configure your desired settings for it.
Hope you enjoyed the tip!