In order to create notes on the go, you'll find Send to OneNote option in Internet Explorer (IE) right click context menu, while surfing web. The only requirement for this is that Office 2007 or later must be installed on your system, so that OneNote app inside the package could contribute the Send to OneNote add-on for IE.
However, after upgrading to Office 2016, I found that Send to OneNote option is no longer working. From some user community threads, I found that the same option is even missing for few users. First, lets see what to do if you can't find Send to OneNote option in IE.
If Send To OneNote Option Is Missing
In case, you can't locate Send to OneNote option, you need to verify – whether the required add-on is Enabled or not. For this, open Internet Explorer, press Alt+X and click Manage add-ons. In the window appeared next, make sure that Send to OneNote is listed here and set to Enabled.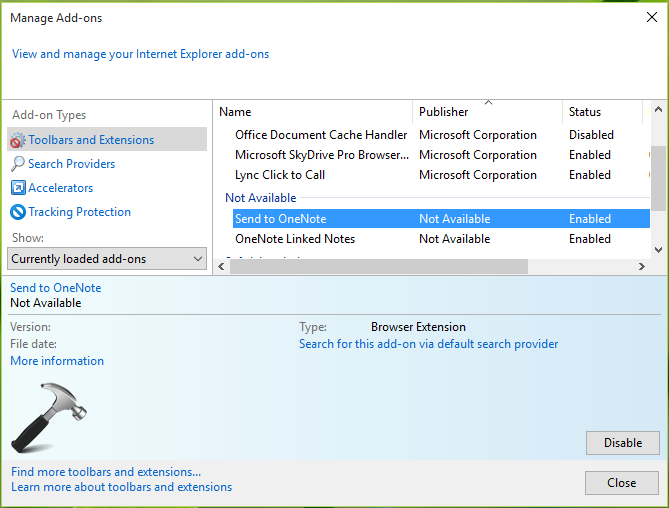 Now let us see the steps – if Send to OneNote option doesn't responds at all or is disabled.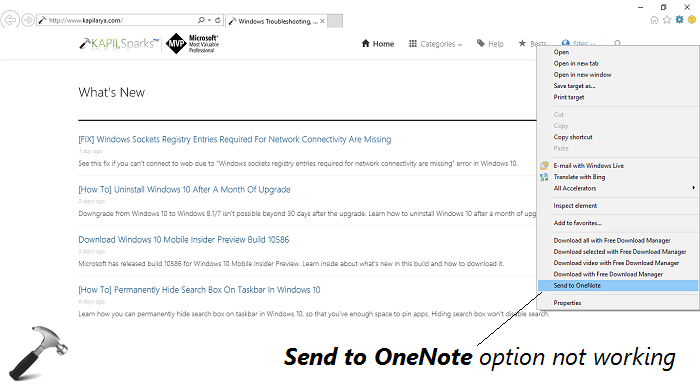 FIX : Send To OneNote 2016 From Internet Explorer Not Working
Registry Disclaimer: The further steps will involve registry manipulation. Making mistakes while manipulating registry could affect your system adversely. So be careful while editing registry entries and create a System Restore point first.
1. Press

+ R and put regedit in Run dialog box to open Registry Editor (if you're not familiar with Registry Editor, then click here). Click OK.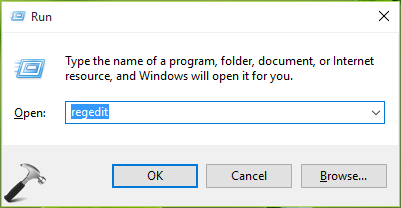 2. In the left pane of Registry Editor, navigate to following registry key:
HKEY_CURRENT_USER\Software\Microsoft\Office\

XX

.0\User Settings\OneNoteToIEAddin
*Substitute XX with 16 for Office 2016, 15 for Office 2015, 14 for Office 2010.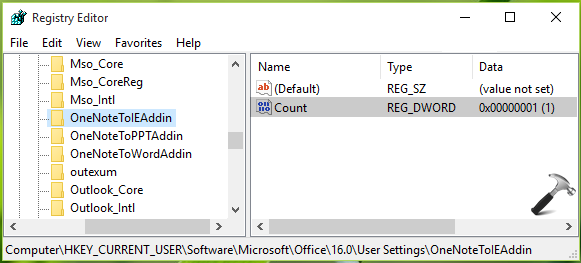 3. Now highlight OneNoteToIEAddin registry key and come to its corresponding right pane. Then locate the registry DWORD (REG_DWORD) named Count in the right pane. Double click on it to modify its Data.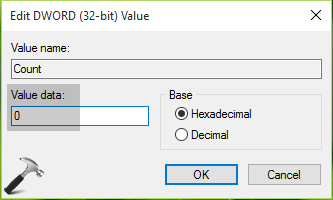 4. Finally, in the Edit DWORD box shown above, change the Value data from 1 to 0. Click OK. Close the Registry Editor and reboot the machine. After restarting your system, you'll find that Send to OneNote option now responds and you can save web notes in following window: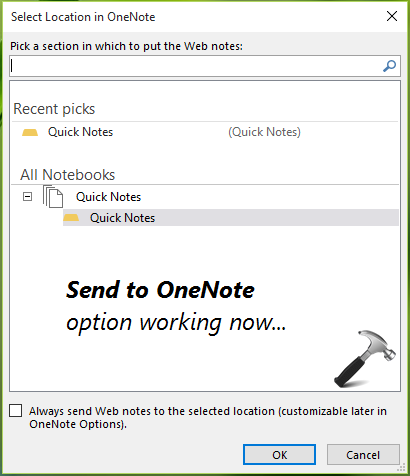 That's it!