These days Windows 10 users are complaining about a new issue in which some apps set themselves as default apps by corrupting or deleting registry configuration. We recently came around this problem on our Windows 10 Pro machine.
In this case, you'll receive a notification from Action Center saying similar statement:
An app default was reset
An app caused a problem with default app settings for .pdf files, so it was reset to Microsoft Edge.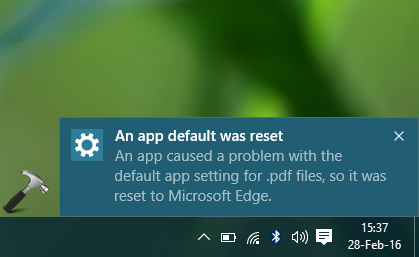 As we said this is similar kind of statement and you can receive it for different extensions like .avi, .htm, .png etc. as well. So if the apps reset themselves to default apps, users faces inconvenience and they've to again set their custom app as default app for corresponding extension.
After coming around this post by a Betsy, Microsoft employee on Microsoft Community, we finally have the way to get rid of this issue.
FIX : An App Default Was Reset In Windows 10
FIX 1 – By Uninstalling Responsible Update
The post from Betsy says that Windows Update (KB 3135173) is causing this issue. It basically resets application defaults to defaults by changing registry settings or corrupting them. As Microsoft is well aware of this issue, they're working with app providers to resolve this problem in future Windows Updates.
As of now, you can try these steps to resolve the problem:
1. Open administrative Command Prompt.
2. Type this command and press Enter key.
wusa /uninstall/ kb:3135173

After uninstalling the system, reboot and the issue will no longer persist.
FIX 2 – Set App Defaults Manually
Another alternative you can try here is to set the app defaults for the extension/format for which you're receiving notifications. Here is how:
1. Open Settings app and go to System > Default apps.
2. In the right pane of this window, click on Choose default apps by file type link.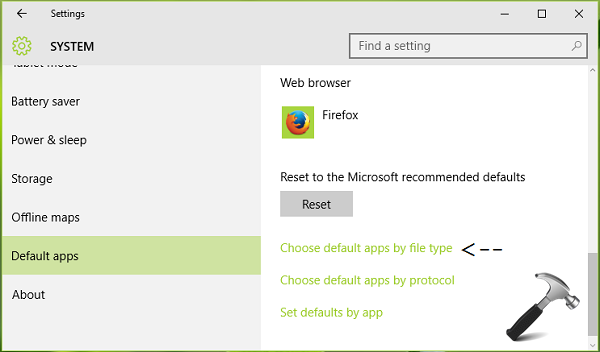 3. Finally, scroll down and locate the extension for which you've problem. Set your default app by clicking the app name next to it. Once you're done, close the Settings app and restart your machine.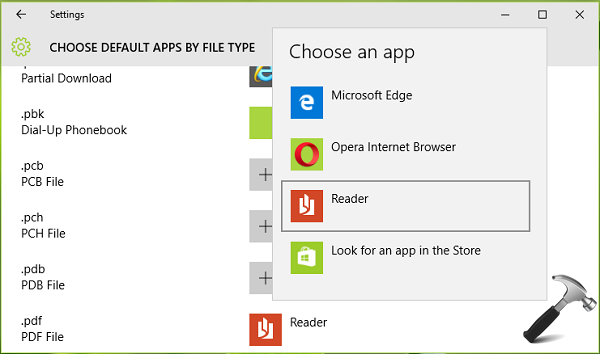 Hope this helps! If the issue still persists, try reinstalling Windows 10 without affecting your data.