If you're using latest Windows 10 Fall Creators Update, you might have noticed a new functionality. That is, when you shutdown or restart the machine, the apps opened are automatically open after shutdown or reboot. Till now, we've seen that whenever we shut down or reboot, the apps opened remain closed after the power operation.
This is actually not an issue but is by design, says Microsoft. Microsoft is well aware of new functionality and one of the Microsoft support engineer confirmed this by posting on community forums. In his post, there is a clear mention that this is by design and implemented in order to provide seamless experience to customers.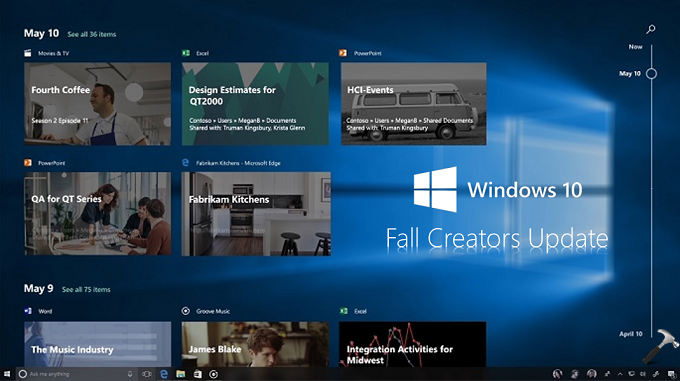 Microsoft believes that this feature should by loved by users, because in earlier editions, users need to re-open apps, that were lost after reboot or shutdown. This will save users from getting into the complications to decide which apps they were working on in previous session. It could also be treated as time-saving feature.
Well, if you don't like this feature, you need to change your shutdown or reboot pattern to permanently close apps after reboot/shutdown. Here's how:
FIX: Apps Re-open Automatically After Restart In Windows 10 Fall Creators Update
The best workaround for this problem would be that you close all the apps when you shutdown/restart machine. Hence, after restart, you can start new session with no apps being re-opened automatically.
FIX 1 – Shutdown Using Command Prompt
You can use the shutdown.exe command-line switch to shutdown or restart your machine. Simply create a shortcut on Desktop with shutdown.exe /s /t 0 to turn off your machine. If you want to create shortcut of restart instead, use shutdown.exe /r /t 0, where switch /r is for restart/reboot.

Refer Technet library to discover more parameters, that you can use with shutdown.exe switch here.
FIX 2 – Using Alt+F4 To Shutdown/Restart
If you're not comfortable with command-line way mentioned in FIX 1, you can try this alternative way. Simply minimize all apps opened or if you've a huge list of apps, simply go to Desktop and press Alt+F4 keys together. You'll be presented with the Shutdown Windows dialog shown below.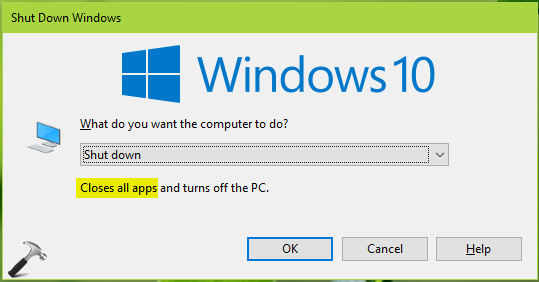 You can use this dialog to shutdown or restart by closing all currently opened apps.
Hope the ways mentioned above helps you to restart your system with previously opened apps closed!