Start Screen has got beautiful tiles for displaying real-time updates for the apps you have installed. These updates are shown with the ease of animation and looks fabulous when you have many app tiles which you've turned on as a live tiles. However, we have observed that if you make changes for the apps, the changes are not immediately reflected to their corresponding live tiles. We recently came around this scenario for the Photos app; which is a built-in app for you image collection in Windows 8 and 8.1. We deleted some of the pictures from the Pictures library, but the live tile for the same app continued to display those pictures we've erased so far.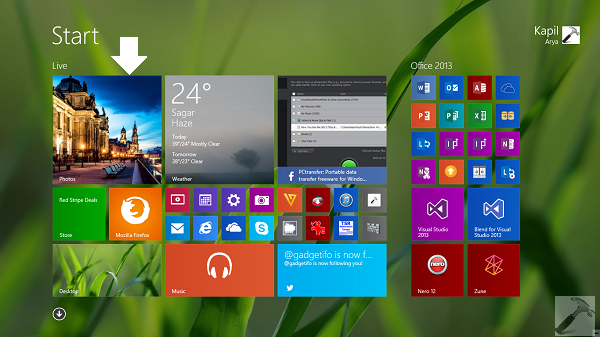 The condition became more critical because even after rebooting the machine, there were no changes in the behavior of live tile. So how to manually command this live tile to update itself according to the condition? Actually, the problem can be understood in a very simple yet technical way. The Photos app tile builds a cache of images which it has to display live, and in this case the cache is not updated, so the tile. So if by anyhow; we rebuild the cache, we could bypass the hitch. Here is how:
FIX : Photos App Live Tile Still Showing Deleted Images In Windows 8.1
1. Press Ctrl+Shift+Esc key combination on your keyboard to open Task Manager. Kill Photos app by highlight it and then clicking End Task.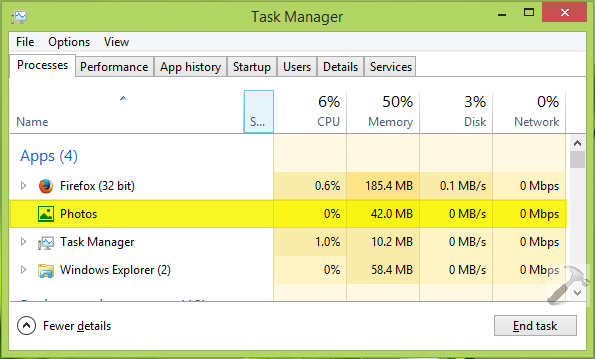 2. Go to Start Screen, press

 + I, click Tiles in the Settings charm so opened. In the Tiles section, under the hood of Clear personal info from my tiles, click Clear. Open Photos app to automatically rebuild cache.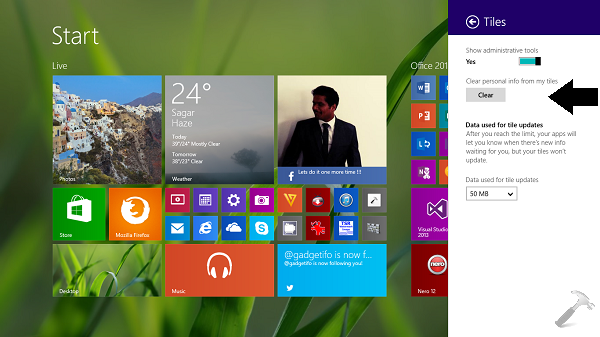 3. Now right click on Photos app tile, from the bottom screen options, select Turn live tile off.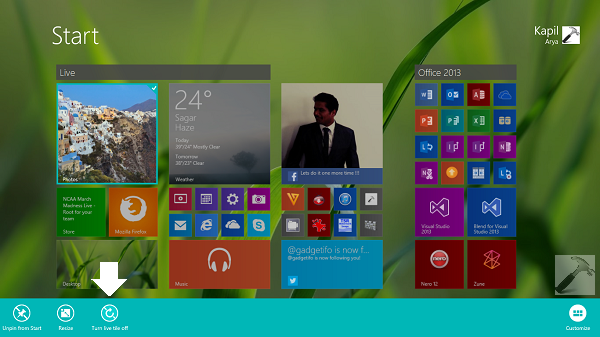 4. Switch to Photos app now, and

 + I and click Options from the Settings charm so opened. In the Options section, set the slider for Shuffle photos on the Photos tile option to Off.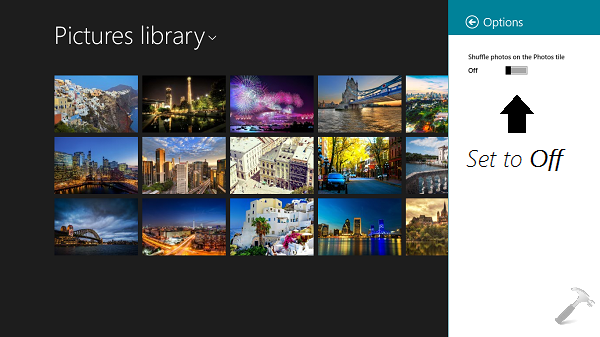 5. Finally, open any image from Pictures library inside Photos app and right click over it, select Set as -> Photos tile. Now go to Start Screen and turn on the Photos app tile to live.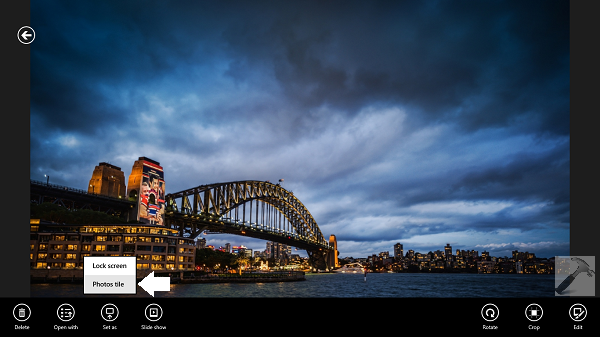 This should have fix the issue, however if your live tile is now shuffling images, you can make a restart and after a reboot everything will work perfectly.
That's it!