System Restore is one of the easiest tool available in Windows, which helps us to take our system to last known good configuration, in case if it is not working as expected. You must have system protection enabled so that System Restore feature could work. Also, you must have restore points created in advance.
But even after having restore points created, if you're unable to restore your system in crisis situation, the System Restore would be meaningless then. Today, in this article, we'll discuss a common issue in which we couldn't use System Restore feature.
In this case, when we try to access System Restore feature, following error appears:
To use System Restore, you must specify which Windows installation to restore.
Restart this computer, select an operating system, and then select System Restore.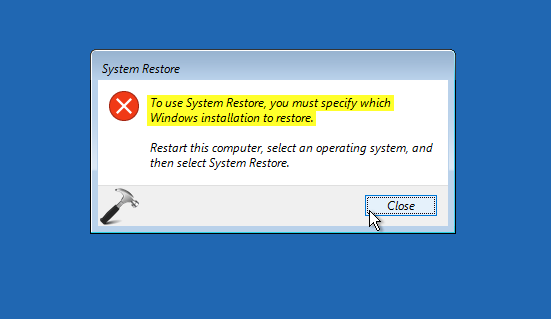 The above mentioned error is expected to occur if you've multiple operating systems installed. Especially, if you've different Windows editions installed on different drives of single operating system, you may receive this error message. But sometimes the error message may appear on single Windows OS installation.
Here is how you can resolve this issue then:
FIX: 'To Use System Restore, You Must Specify Which Windows Installation To Restore' In Windows 10/8/7
Along with the reason we mentioned above, if you're accessing System Restore feature using rstrui.exe command from Windows Preinstalled Environment (Windows PE) or Windows Recovery Environment (Windows RE) Command Prompt.
In such a case, it is suggested that you use offline parameter with rstrui.exe command. Try these steps:
1. Open Windows PE/RE Command Prompt.
2. Type following command and press Enter key:
rstrui.exe /offline:

C:

\Windows 
*Make sure you substitute C: with your system root drive, in above mentioned command.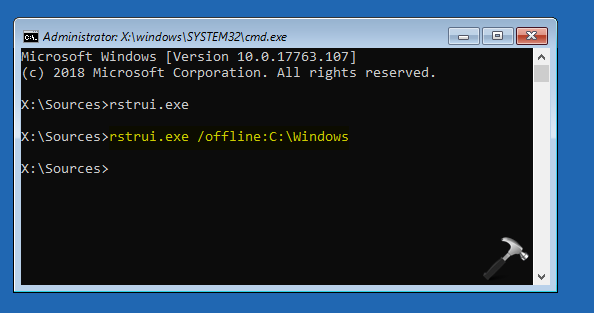 3. System Restore wizard should appear now without the error, so you can continue to restore your system.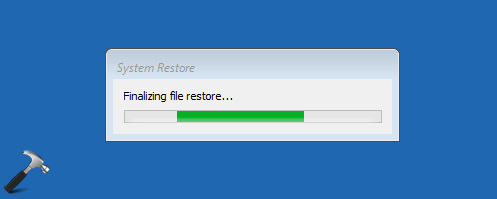 This way, the System Restore feature should work offline as expected and restore your system to earlier date.
Checkout following video to illustrate this fix:
Let us know via your comments, if you're still facing this issue!