In Windows 10, by default you've recently opened items displayed under Jump Lists. You can spot your recently accessed documents under Start Menu, Quick Access in File Explorer. These items are listed so you have an easy access to them. This feature is commonly known as Jump List by name. It is super convenient feature to clients messing around hundreds of files in a day. They can save a lot of time in accessing their recently opened files with Jump Lists.
But some users may not like Windows to track their file access history. If you're also sharing same feeling, you can use this guide to disable showing of recently accessed items in Jump List. Microsoft has added the UI based option which can be configured with Settings app. Also, you can always use the registry tweak to disable that setting.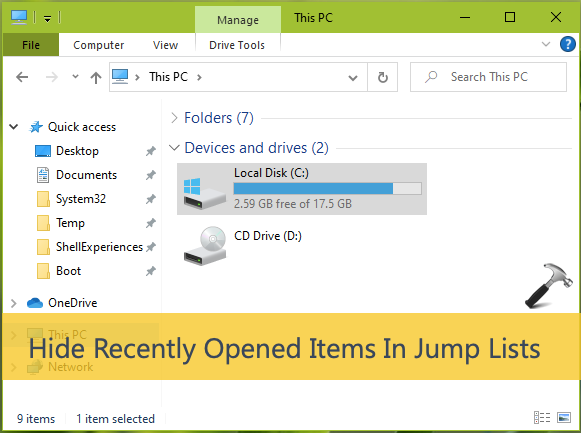 Both the ways are mentioned below so use them as per your convenience.
Hide Recently Opened Items In Jump Lists For Windows 10
WAY 1 – Using Settings App
1. Right click Start Button or press

+ X keys and select Settings.
2. In the Settings app, navigate to Personalization > Start.
3. In right pane of Start, change the Show recently opened items in Jump Lists on Start or the taskbar and in File Explorer Quick Access option to Off.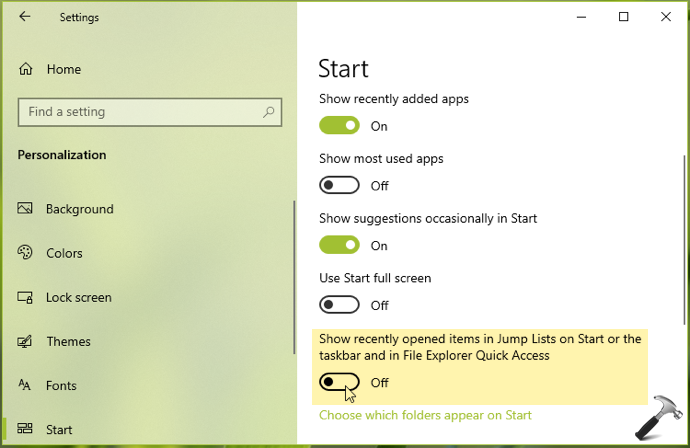 4. Close Settings app and sign-out, then sign-in back to make changes effective.
WAY 2 – Using Registry
1. Open Registry Editor by running regedit command.
2. Go to HKEY_CURRENT_USER\Software\Microsoft\Windows\CurrentVersion\Explorer\Advanced.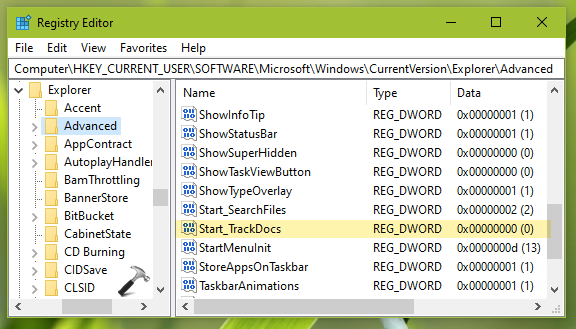 3. Now in the right pane of Advanced registry key, look for the registry DWORD (REG_DWORD) named Start_TrackDocs. If the DWORD doesn't exists by default, simply create it and let its Value data set to 0.
4. Close Registry Editor and sign-in back to apply the settings.
In case if you want to prevent your Windows 10 to track app launches, you can checkout this guide.
That's it!