If you compare Office editions with one other, you will find that in each successive edition, Microsoft has added a considerable number of features. Now the question is that do we use all of these features? Answer is most probably No for this! But we must admit that Microsoft has not made Office for a specific class of users. They have provided these features for all users, some may be useful to some, while not useful to some others. So basically, implementation of these new users is beneficial overall, if we take account of general public.
Okay, so lets talk about one such feature available in Office 2013 and may in later ones also. This feature is Screen Clipping and it's supposed to insert screenshot of current screen into current document, when you use it. This is the same feature works like the native screen capturing feature Microsoft OneNote or of Windows; i.e. pressing 

+ PrtSc or 

+ Fn + PrtSc captures whole screen.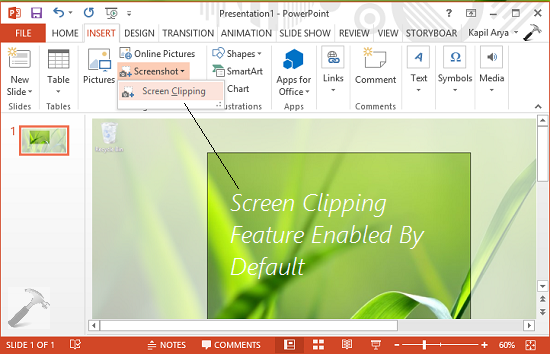 Hence in the dilemma of same features, some users may find it confusing. So in case if you never use the in-built  screen clipping feature in Office; and instead prefer Windows native screen capturing feature, here is how to disable the former one:
How To Disable Screen Clipping In Office 2013
Registry Disclaimer: The further steps will involve registry manipulation. Making mistakes while manipulating registry could affect your system adversely. So be careful while editing registry entries and create a System Restore point first.
1. Press

+ R and put regedit in Run dialog box to open Registry Editor (if you're not familiar with Registry Editor, then click here). Click OK.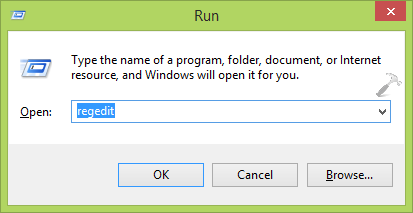 2. In the left pane of Registry Editor, navigate here:
HKEY_CURRENT_USER\Software\Policies\Microsoft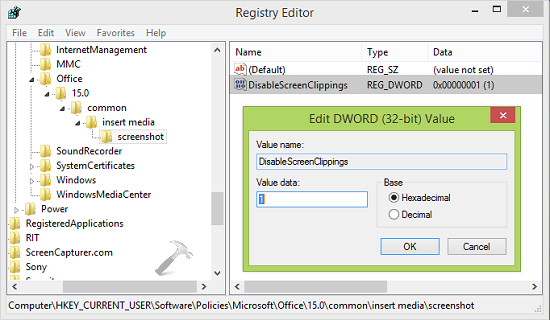 3. In the left pane of above mentioned location, right click Microsoft key and select New -> Key. Name the newly created key as Office. Similarly create sub-key 15.0 to Office key. Again create sub-key to 15.0 and name it common. Moving on, similarly create sub-key to common and name it insert media and lastly create sub-key to insert media and give it screenshot name. So when you highlight screenshot key, you must be at HKEY_CURRENT_USER\Software\Policies\Microsoft\Office\15.0\common\insert media\screenshot. Now come to the right pane of this registry location.
4. In the right pane, right click and select New -> DWORD Value. Rename this newly created DWORD (REG_DWORD) as DisableScreenClippings and double click it. Put the Value data as 1 now and click OK. Finally, close Registry Editor and open any Office component, you will see that Screen Clipping feature has been disabled already: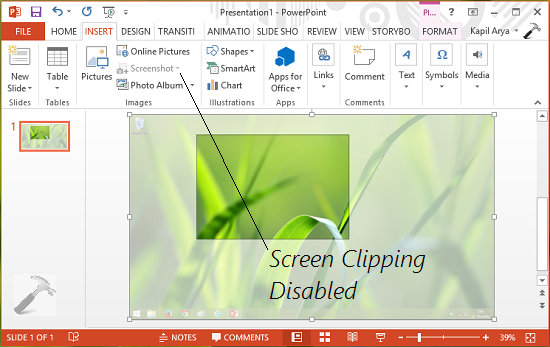 That's it! In case if you want to enable this feature again in future, simply delete the DisableScreenClippings DWORD or change its Value data to 0. FYI, this is common method to disable Screen Clipping for all Office 2013 components at once.
Go here to learn how to prevent Internet usage in Office 2013.