In Windows 10, the app which users use most is the Settings app. As it contains all the settings to manage your system, just like Control Panel, hence it is widely used. Settings app introduced in Windows 8 has been enhanced in later editions and Windows 10 includes Universal app version of it.
However, there exists some advanced tools in Windows, which are above Settings app level. Those tools are Registry Editor and Local Group Policy Editor (non-domain system) or Group Policy Management Editor (system part of domain). When a setting regarding any feature is configured using these advanced tools, same or manual settings available in Settings app are greyed out. Hence a normal user cannot alter that setting and following message can be observed at top of Settings app page:
Some settings are managed by your organization.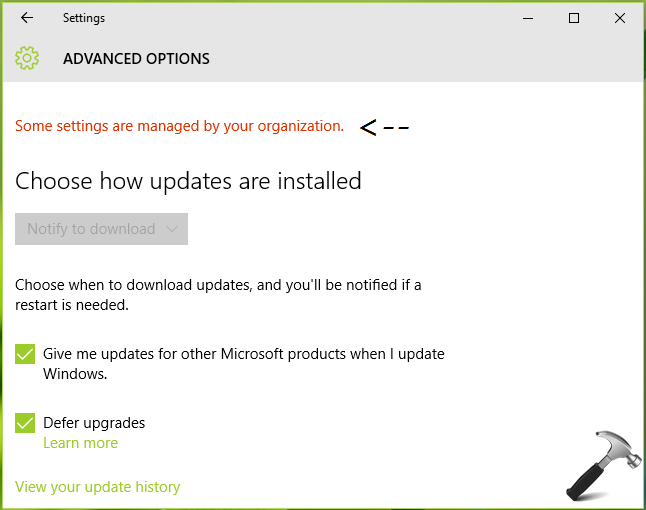 If you're getting this message in certain section of Settings app, you should recall that you might have configured a policy setting earlier for that section. For example, referring above screenshot, I'm getting that message in Windows Update Advanced Settings page. Hence if I recall my mind, I came to know that I configured a policy setting regarding Windows Update some time ago in past. Hence if I could set that policy to default, this message will be suppressed.
I've also observed many Windows newbies often complaining in forums that they get this error even if they're on Windows basic versions (for ex. Home) which didn't contain Group Policy tool. Though it might possible, those system settings have configured via registry manipulation by Original Equipment Manufacturers (OEMs) or third-party software they use. Hence they should removing those software and see if they a success to remove the message.
I've seen some cases where user neither configured setting in registry nor in Group Policy and they're still getting same message. Those systems may be part of domain and it might possible that domain controller has configured some settings which users aren't aware of.
So to resolve the message, follow these suggestions:
FIX: Some Settings Are Managed By Your Organization Message In Windows 10
FIX 1 – If Your System Is NOT A Part Of Domain
If your machine is not a part of domain but contains Group Policy tool and you can't recall the policy setting which you configured earlier, you can reset Group Policy Editor to default. Here is step-by-step guide to reset Group Policies using Advanced Recovery Command Prompt or using batch file:
Steps to reset Local Group Policy Editor to default
CAUTION: By resetting Local Group Policy Editor to default, you'll loose all customization settings you've configured for your system using policies.

FIX 2 – If Your System Is A Part Of Domain
In case if your system is part of domain, you might be using cooperate credentials to use your machine. So if you opt-out of that work account and use local account or Microsoft account, the message will be suppressed. Though even after switching to personal account if you're getting same message, you need to consult your domain controller and ask them to remove the policy restrictions for your system.
Check following video to illustrate this fix:
Hope something helps!

Related: How to view configured Group Policies in Windows 10.