With Windows 10, there are some changes in the Windows Updates algorithm. Now Windows Updates section is eliminated from Control Panel and all the settings in context to the feature is confined to Settings app only. This suppressed the ability of an user to select an specific update he/she wants to install in Windows 10. So they can't specify selective updates and as a result of this, all updates are downloaded and installed automatically.
This will consume your data bandwidth, additionally. In order to let Windows Updates notify you before downloading and installing updates, you can try the steps mentioned here:
How to prevent Windows Updates from automatically download and install in Windows 10
You can also natively defer upgrades if you like. Defer upgrades features is not applicable to postpone security updates. Read more about it, here:
How to configure "Defer Upgrades" in Windows 10
Today, in this article, we're going to show how you can select the updates which you want to install. This will give you the freedom to install only those updates which are relevant for you. Hence, using this way, you can save your valuable data which could have wasted in downloading irrelevant updates. Also you'll save your time by preventing installation of those updates which you don't need.
Without wasting time anymore, here is the how-to part:
How To Install A Specific Windows Update In Windows 10
Follow these steps carefully, and make sure to create a System Restore point before starting. You may also need to signed in as administrator of your system.
1. First of all download the Windows Update PowerShell Module from following link:
Download Windows Update PowerShell Module
The module is in ZIP format, so you can easily extract it using in-built decompression ability of Windows 10. Right click on .zip file and select Extract all.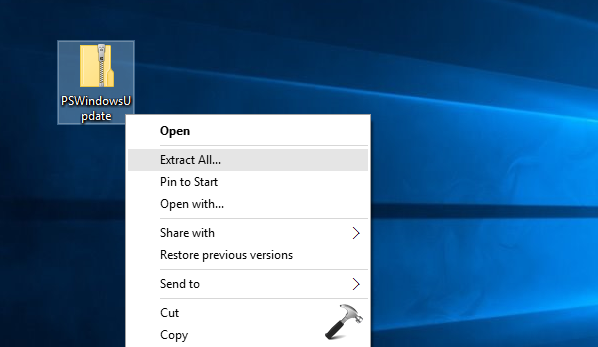 2. Now press

+ R and type this into the Run dialog box and press Enter key / click or tap OK:
%WINDIR%\System32\WindowsPowerShell\v1.0\Modules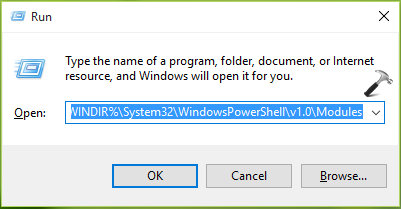 3. Moving on, copy the extracted ZIP folder named as PSWindowsUpdate from step 1 to Modules folder so opened from step 2: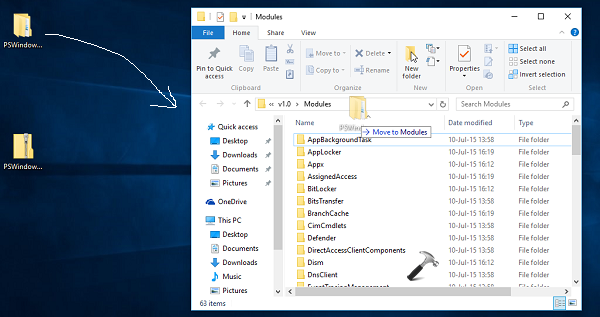 You need to provide the permissions for this operation by clicking Continue option here: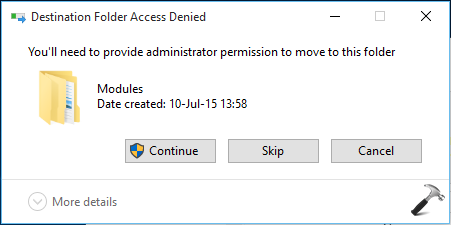 4. Press

+ S and type powershell in the search box. Choose Windows PowerShell form results, right click on it as select Run as administrator. In the elevated or administrative Windows PowerShell window, type following command and press Enter key:
Set-ExecutionPolicy RemoteSigned
Then you'll be asked to changing execution policy for current operation. Type Y and press Enter to provide your confirmation. Then type these commands followed by Enter key:
Import-Module PSWindowsUpdate
Get-WUList
This will list all available Windows Updates for you. To install a specific update, type following cmdlet and Enter key then:
Get-WUInstall -KBArticleID KB

<UPDATE NO.>



* Substitute your desired update KB ID with <UPDATE NO.>. For example, to install update KB3081441, I'll use cmdlet as Get-WUInstall -KBArticleID KB3081441.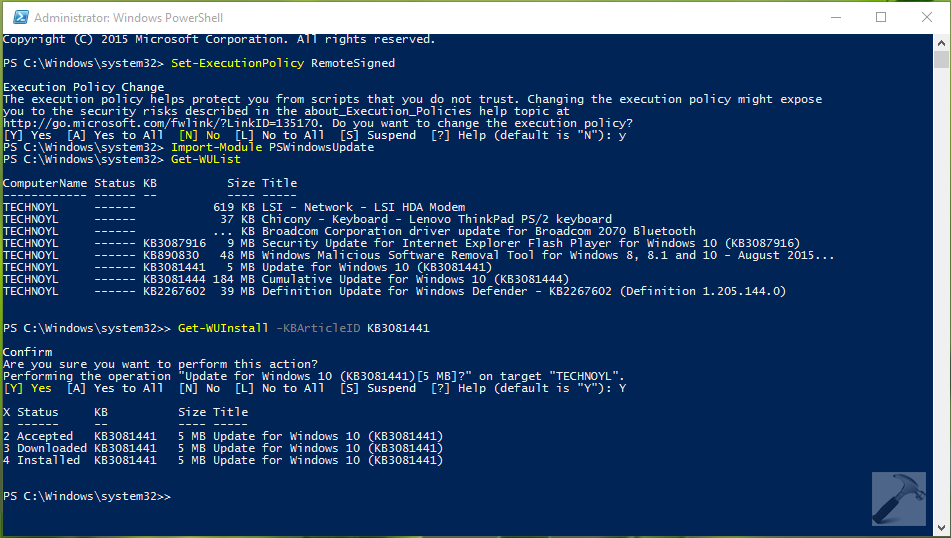 As soon as you typed cmdlet and press Enter, you'll be asked for confirmation. Type Y and press Enter key. Now, the update will be downloaded depending upon speed of your Internet connection and will be installed automatically as well. You can then close Windows PowerShell if you like.
That's it! Go here to learn how to manually reset Windows Update components.