In Windows 10 operating system, we have various background services which each of them having specific importance. Microsoft may add or remove these services in different Windows versions to improve the performance of Windows. Moreover, these services are to ensure that programs and features in Windows works the way they've designed.
If you're running latest Windows 10 version, you might have noticed a new service called Update Orchestrator service. In this article, we'll see what this service is and which purpose it serves in the operating system.
What Is Update Orchestrator Service In Windows 10 And Why Is It Running?
So the Update Orchestrator service is a background service that you'll find in Windows 10 Version 1803 (April 2018 Update) or later. It is one of the prime services required by Windows 10 and helps to bring new updates to your system.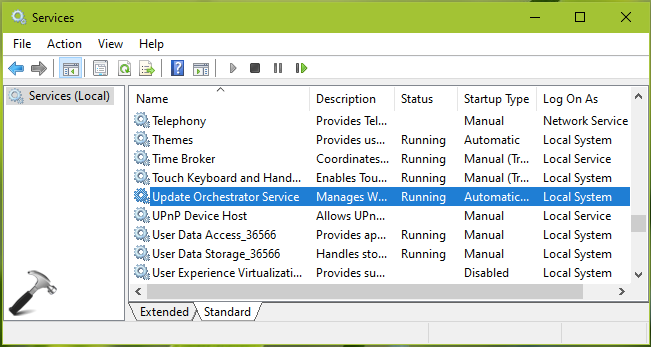 As you know, Microsoft wants users to have their system updated with latest available updates. Following that, it is not advisable to disable this service. Because if you disable this service, Windows Update feature will be broken. And if it is broken, your system may not be able to detect, download, verify and install patches – ultimately making the system vulnerable. This is the reason, why you can't disable the Startup type of this service in Services snap-in.
Default Settings For Update Orchestrator Service In Windows 10
By default, Update Orchestrator service has Automatic (Delayed Start). Remote Procedure Call is the dependency service for Update Orchestrator service. It runs with Local System account privileges. Additional settings for this service can be configured using Task Scheduler at Task Scheduler Library > Microsoft > Windows > Update Orchestrator.
So if at a stage you find that Windows Update is no longer working properly, make sure you check the Update Orchestrator service, before trying any other troubleshooting steps.
Hope you find the article helpful!