When you setup new user accounts, especially Microsoft accounts, you need to have a stable and working Internet connection plugged into your machine. Though the connection might not be required in case local accounts but when Windows 10 looks to update your family accounts overall, it would need web connectivity. Setting up family accounts helps child accounts to stay safe from inappropriate content, apps, games etc.
In case if you've just added new users accounts of your family members to your Windows 10 and if these accounts are not updated with Microsoft account servers, you may came around following message:
We can't connect to Microsoft family at the moment, so your family on this device might not be up to date.
OR
We couldn't connect to Microsoft family right now, so your family device may not be up to date.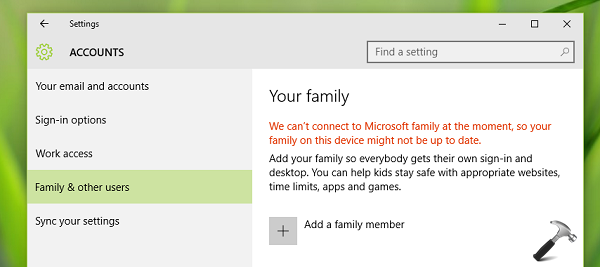 Following might be possible causes behind this issue:
Your system is not connected to the Internet, so connect it to web and let accounts synchronize
If you still face the problem even after following above mentioned suggestions, try these fixes:
FIX : We Can't Connect To Microsoft Family At The Moment Message In Windows 10
FIX 1 – Run Internet Connections Troubleshooter
Sometimes, networks connection may be various issues which prohibit other Windows features from working correctly. Though, you can browse web but these root issues may fail other features to function and you need to fix it via Internet Connections troubleshooter. Here is how you'll run it:
Steps to run Internet Connections troubleshooter in Windows
We hope running this troubleshooter will resolve the issue. In case if after running and fix Internet issues, you still face same message, then there is something wrong with users account. FIX 2 addresses how to deal with user accounts.
FIX 2 – Switch Microsoft Accounts To Local Accounts
This kind of issues are likely to happen when you use few family accounts as Microsoft account and remaining ones as local account. So you either switch all accounts to Microsoft account or local one, out of which switching all accounts to local accounts is simplest bet. This guide will help you in this conversion:
Steps to convert Microsoft account into local account in Windows 10
Once you convert all accounts for your family to local one, you may reboot and issue will be resolved – which you can verify after multiple boots. Now as the issue is resolved, you switch your accounts back to Microsoft account, if you like.
Hope this helps!