A lot of users recently reported that their Windows 10 is suddenly got deactivated. If you're also facing this problem at the moment, read on this article.
Well, this issue is actually due to Microsoft servers. In this case, if users are running Windows 10 Pro, it got suddenly deactivated and shown Activate Windows watermark on the right bottom corner of the screen. As the Windows is deactivated, you can't personalize you system as well as can't enjoy its features fully. On troubleshooting, it found Windows 10 Home license and asks you to install same.
So when you go to re-activate Windows using your product key, following line may appear and Windows remain de-activated.
We found a Windows 10 Home digital license for this device running Windows 10 Pro. To activate using this digital license, you need to install Windows 10 Home.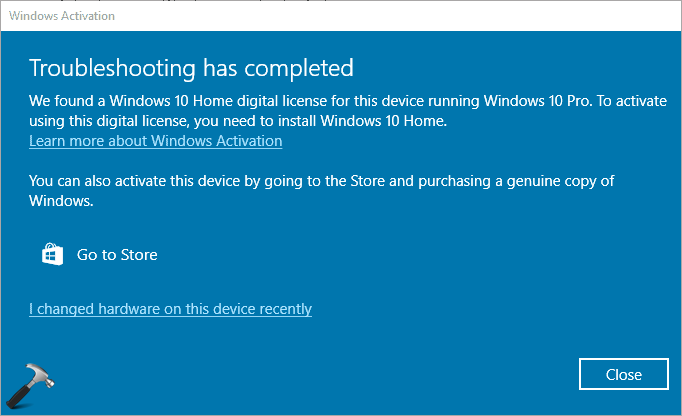 Image credits: Microsoft Community
Windows 10 Is Suddenly Not Activated
As the issue is due to Microsoft activation servers, the users actually not need any action from their side. They can continue using Windows as usual. Good thing is that Microsoft is already aware of the issue and working to resolve it.
Following is the reply an affected user got from Microsoft Agent via Chat Support:
Microsoft has just released an Emerging issue announcement about current activation issue related to Pro edition recently. This happens in Japan, Korea, American and many other countries. I am very sorry to inform you that there is a temporary issue with Microsoft's activation server at the moment and some customers might experience this issue where Windows is displayed as not activated. Our engineers are working tirelessly to resolve this issue and it is expected to be corrected within one to two business days.
We can understand that genuine licenses are costly and if they're getting suddenly deactivated and it is point of worry. But above mentioned reply from Microsoft shows that you don't to worry at all. It's fault at their side and they will surely fix it up for you.
FYI: Around 7AM IST (9 Nov, 2018), Microsoft's official spoke person has also acknowledged the issue and it seems they'll get it fixed asap.
A limited number of customers experienced an activation issue that our engineers have now addressed. Affected customers will see resolution over the next 24 hours as the solution is applied automatically. In the meantime, they can continue to use Windows 10 Pro as usual.
We'll update this article, when we've an update on this issue. Stay tuned!