While performing various operations, Windows requires dependency upon background services. For example, when you're installing new software, the Software Protection service checks whether software is from reliable source or not, Windows is activated or not while installing this software etc. If this service found something that is not legitimate, it won't allow you to install new tools your machine.
Recently, while using Microsoft Office on a system, I received following error:
Microsoft Office can't find your license for this application. A repair attempt was unsuccessful or was cancelled. Microsoft Office will exit now.
This kind of issues may come into play if Software Protection service is not running or it is having trouble to get triggered. So in the Services (run services.msc command to get this) window, I found that Software Protection service wasn't running.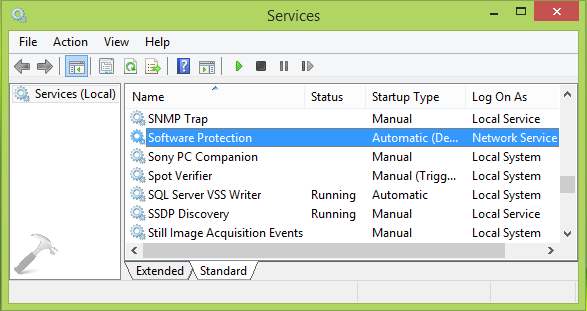 When I tried to start this service, I come around another error then:
Windows could not start the Software Protection service on Local Computer.
Error 5: Access is denied.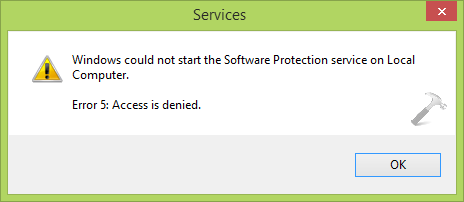 From the Access is denied in the message, it's clear that some permissions hiccup is causing this issue. If you're too facing this problem, I suggest you to first make sure that Windows is activated on your system.
Read : Steps to re-activate your Windows copy
If the issue still persists, even after confirming Windows activation, try these fixes then:
FIX : 'Windows Could Not Start The Software Protection Service On Local Computer' In Windows 10/8/7
FIX 1 – Using File Explorer
1. Press

+ E to open File Explorer and navigate to following folder:
C:\Windows\System32
Substitute C: with your system root drive.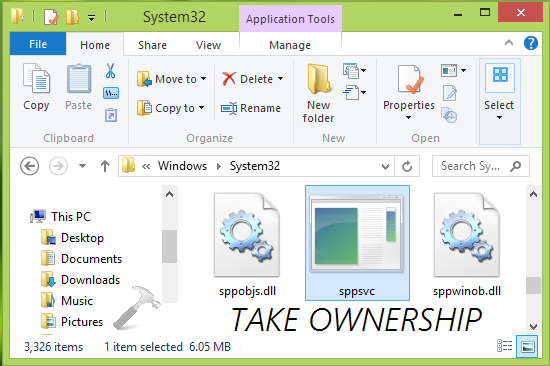 2. In the System32 folder, look for the file named sppsvc.exe and take ownership of it.
See : How to take ownership of sppsvc.exe file.
After taking ownership sppsvc.exe, retry to start Software Protection service and see if you can. Else refer FIX 2 mentioned below.
FIX 2 – Using Registry Manipulation
Registry Disclaimer: The further steps will involve registry manipulation. Making mistakes while manipulating registry could affect your system adversely. So be careful while editing registry entries and create a System Restore point first.
1. Press

+ R and put regedit in Run dialog box to open Registry Editor (if you're not familiar with Registry Editor, then click here). Click OK.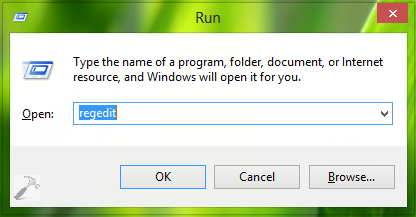 2. In the left pane of Registry Editor, navigate here:
HKEY_LOCAL_MACHINE\SOFTWARE\Microsoft\Windows NT\CurrentVersion\SoftwareProtectionPlatform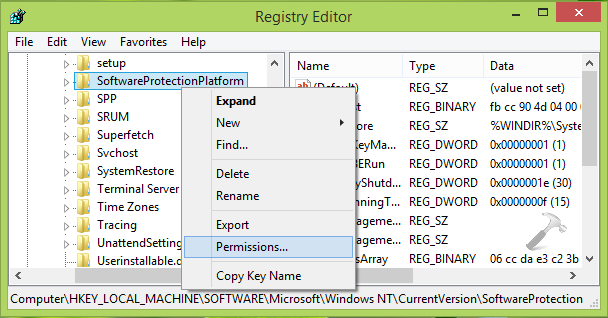 3. In the above shown window, right click SoftwareProtectionPlatform key and select Permissions. In the Permissions window, highlight sppsvc in Group or user names section. Now check the options against Full Control and Read for Allow in Permissions for sppsvc section.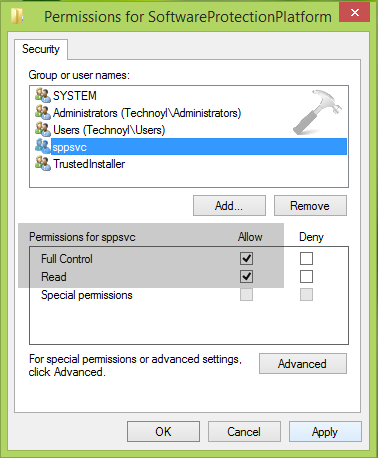 Click Apply followed by OK. You can now close the Registry Editor and reboot the machine. After restarting the system, you'll find that problem no longer exists.
Hope this helps! If you're not able to start Bluetooth support service, go here.