When Windows boots very first time on a machine, it can be booted into Windows Welcome Mode and Audit Mode.
Windows Welcome Mode, aka "out-of-box experience" (OOBE), is the first user experience. Windows Welcome prompts end users to customize their Windows installation. End users create user accounts, read and accept the Microsoft® Software License Terms, and select their language and time zones. By default, immediately after installation, Windows starts Windows Welcome.
While, Audit Mode is used to add customizations to Windows images. When you use Audit Mode, the system does not have to apply settings in Windows Welcome. Original Equipment Manufacturers (OEMs) and corporations should use Audit Mode to complete their manual customizations before shipping a computer to an end user.
In some cases, Windows keep running in Audit Mode and user has no idea about it. While upgrading to Windows 10, if your machine is running Audit Mode, the upgrade won't progress. Here is what you'll see while updating:
Windows 10 couldn't be installed
You can't install Windows while running in Audit Mode.

So in order to continue with Windows 10 installation, we first need to exit from Audit Mode. You can try either of these two ways, as per your convenience and take yourself out from Audit Mode:
FIX : You Can't Install Windows While Running In Audit Mode
Method 1 – Using Command Prompt
1. Open the administrative or elevated Command Prompt.
2. Type following command and press Enter key:
CAUTION: Running sysprep command each time resets Windows licensing state to default. So if your Windows is activated and you run this command, you'll need to reactivate Windows after executing this command.

sysprep /oobe /generalize

3. Once the command successfully executed, you'll be out of Audit Mode. Now you can re-try to upgrade to Windows 10 and it should work.
Method 2 – Using Registry Editor
Registry Disclaimer: The further steps will involve registry manipulation. Making mistakes while manipulating registry could affect your system adversely. So be careful while editing registry entries and create a System Restore point first.

1. Press

+ R and put regedit in Run dialog box to open Registry Editor (if you're not familiar with Registry Editor, then click here). Click OK.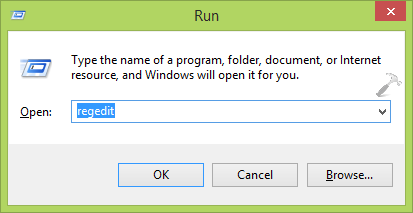 2. In the left pane of Registry Editor, navigate to following registry key:
HKEY_LOCAL_MACHINE\SOFTWARE\Microsoft\Windows\CurrentVersion\Setup\State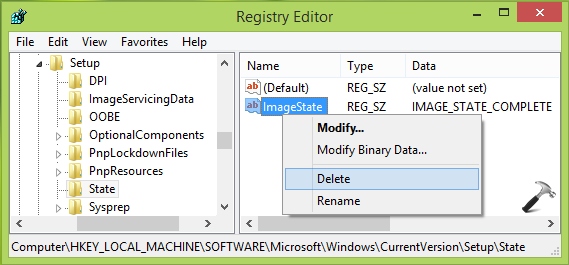 3. In the above shown window, highlight State registry key and come to its right pane. Now right click on ImageState named registry string (REG_SZ) and select Delete. Once you deleted the string, close Registry Editor and reboot.
So you can now try to upgrade to Windows 10 and you won't face any issue since you're now out of Audit Mode.
Hope this helps!