Today, while installing Microsoft Office 2016, I faced a very strange problem. The machine on which I was trying install this latest package was Windows 10 Pro and it was idle system (not a part of domain). The issue was appearing of this error message, which crashed the installer to go beyond:
Access denied to installation source
Sorry, we ran into a problem accessing a required file. Please check that the installation source has the correct permissions, then try again.
Error Code: 30015-4 (5)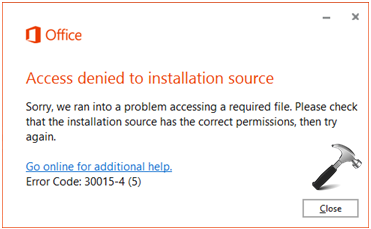 Office 2016 with Click-to-Run (CTR) technology comes with online installer and once the installer crashed, you need to restart installation from scratch. Also there is no guarantee that the error won't counter if your restart installing. So we must fix the issue first, then re-try to install.
According to error message, here either the installation source or the directory to which installation is being done is culprit. Before taking any troubleshooting steps, do make sure that your system has all the latest Windows Updates installed. Then try following suggestions and see if they helps:
FIX : Access Denied To Installation Source. Error Code 30015-4 (5)
1. Remove the previous Office installations along with their traces, if any. Here are the steps for that:
Uninstall Office without leaving traces using Microsoft Fixit
2. Check the setup file, if you're having this issue while making offline installation and you got ISO image file from MSDN subscription. This can be easily verified by plugging the installation media to another machine and see if setup runs perfectly.
3. Upgrade your Windows 10 to new build, if available.
4. Remove any third-party software, especially security suites installed on your machine.
5. If you can't follow step 4, run msconfig command. Switch to Services tab, check Hide all Microsoft services. Then disable all remaining services by unchecking them and reboot, retry to install.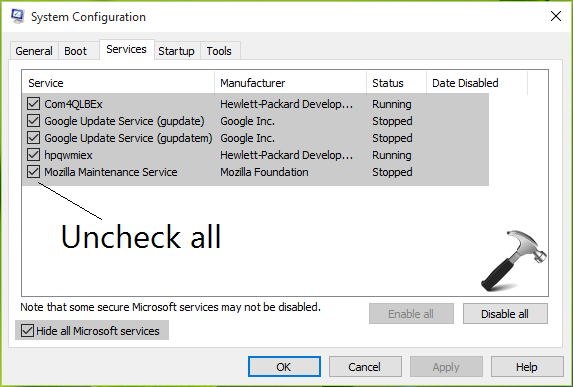 6. Check the permissions on installation folder. For this, go to C:\Program Files (x86) or C:\Program Files and right click on Microsoft Office folder there, select Properties.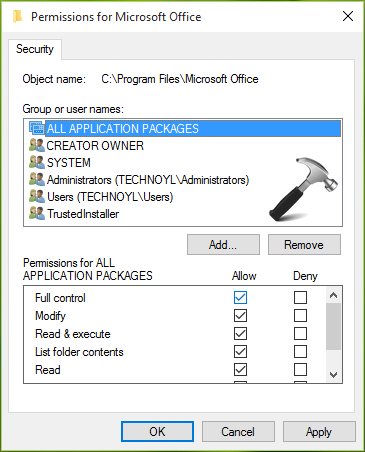 Switch to Security tab and make sure that ALL APPLICATIONS PACKAGES have Full Control here. If the option against Full Control is not enabled, make it checked. Click Apply, OK.
7. Reinstall Windows 10 without affecting your files and re-try to install, in case if the issue still persists.
Hope something helps!