In Windows 8 or later, we have default lock screen image whenever we sign out from our account. Actually this default lock screen image appears when each user sign outs from his/her account. However this default image wallpaper may vary from build to build, but the fact is that "there is a default lock screen image at all" which comes into play when you switch accounts on your system.

You can't change this image from the PC Settings -> Personalize -> Lock Screen page. Thus if you're looking to change this default lock screen wallpaper, then this article is for you. The method will be also beneficial for those users, who're facing Lock screen error – Setting the lock screen failed. Please try again issue.
How To Change Default Lock Screen Image For Multiple Users
1. Make sure you're have enable hidden items in the File Explorer. Navigate to following folder:
C:\ProgramData\Microsoft\Windows
Substitute C: with your system root drive.
2. In the Windows folder, there should be a folder named SystemData, take its ownership using the way mentioned here.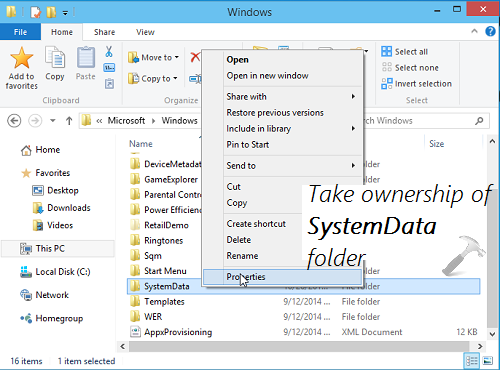 3. After taking ownership, right click SystemData folder and select Properties. Switch to Security tab and click Advanced option, you'll be taken to below shown window, where you've to click Enable inheritance.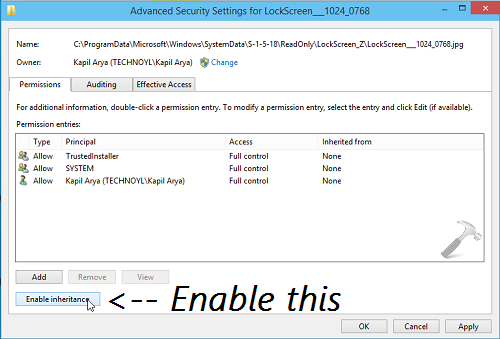 4. Next, move to following folder:
C:\ProgramData\Microsoft\Windows\SystemData\S-1-5-18\ReadOnly\LockScreen_Z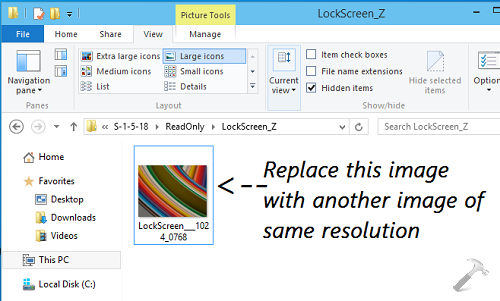 Here you'll see the default lock screen image which appears whenever any one sign outs from his/her account. All you need to do is to replace this image with your desired image with same name. Please note that the resolution of this default lock screen image is 1024×768 pixels, hence its obvious that your desired image should have the same resolution and extension i.e. .jpg. Once you've replaced the image, log out of your account, and your desired lock screen will appear now.
Hope you enjoyed the trick, Good luck!