Windows 10 has built-in ability to print to PDF without requiring any third-party software. Hence, you can use Microsoft Print to PDF function in this operating system natively to print images or other documents to PDF: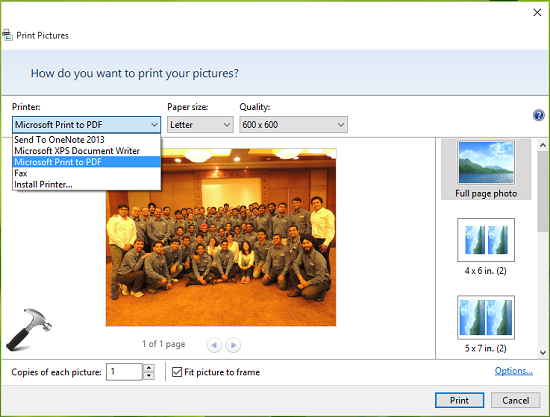 To ensure that Print to PDF is available on your system, go to Settings app > Devices > Printers & scanners > Printers > Microsoft Print to PDF. If you're missing Print to PDF feature on your Windows 10, you can enable it from Windows Features page.
Well, the output file for Print to PDF operation is stored into your Documents folder. If you wish to get it stored on your desired any other location, the steps mentioned below will help you:
How To Change Output File Location For Print To PDF In Windows 10
Registry Disclaimer: The further steps will involve registry manipulation. Making mistakes while manipulating registry could affect your system adversely. So be careful while editing registry entries and create a System Restore point first.
1. Press

+ R and put regedit in Run dialog box to open Registry Editor (if you're not familiar with Registry Editor, then click here). Click OK.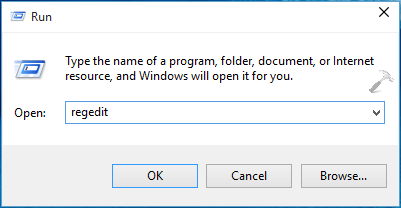 2. In the left pane of Registry Editor, navigate to following registry key:
HKEY_LOCAL_MACHINE\SYSTEM\CurrentControlSet\Control\Print\PDF Port\Ports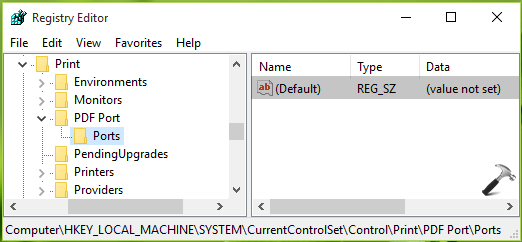 3. In the left pane of above mentioned registry location, highlight Ports key and come to its corresponding right pane. In the right pane, you'll see (Default) registry string (REG_SZ) whose value is not set. This registry string is responsible to restrict output of Print to PDF into Documents folder. Double click on the this registry string to modify its Value: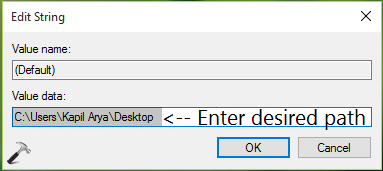 4. Finally, in the Edit String box so appeared, enter your desired folder location for Value data section. Click OK and close the Registry Editor. You should now reboot to make the changes effective. After restarting your system you'll Print to PDF and its output will be stored at your desired location.
That's it!