NOTE : This article is updated whenever a newer Windows 10 Mobile Insider Preview build is released.
Microsoft has started rolling out Windows 10 Mobile for end users. But like Windows 10, they're keeping Windows Insider program alive for Windows 10 Mobile as well. Hence, the company is expected to keep releasing new builds for Windows Insiders.
Now, the development team has now released Build 15031 for Windows 10 Mobile Insider Preview under Fast ring. Following models are expected to get this build:
Nokia Lumia models:
Lumia 1520, Lumia 636, Lumia 638, Lumia 720, Lumia 730, Lumia 730 Dual SIM, Lumia 735,  Lumia 830, Lumia 920, Lumia 925, Lumia 928
Microsoft Lumia models:
Microsoft Lumia 430, Microsoft Lumia 435, Microsoft Lumia 532, Microsoft Lumia 532 Dual SIM, Microsoft Lumia 640 Dual SIM, Microsoft Lumia 640 XL, Microsoft Lumia 535 Dual SIM, Microsoft Lumia 650, Microsoft Lumia 930, Microsoft Lumia 950, Microsoft Lumia 950 XL
Now lets see what steps you need to perform, in order to get Windows 10 running on your mobile:
How To Download Windows 10 Mobile Insider Preview
1. Join the Windows Insider Program using below mentioned link. If you've already joined the program while getting Windows 10 for desktop, then you don't need to join it again.
2. Next, download the Windows Insider app from following link:
3. After installing the app, open it and use your Microsoft account (on which you've signed for Windows Insider program). Here, you have two options. First option gives is for Insider Slow, means the build released in this ring aren't latest one and they may have less bugs; while in case of Insider Fast you're set to get latest and hottest build but it may have more bugs.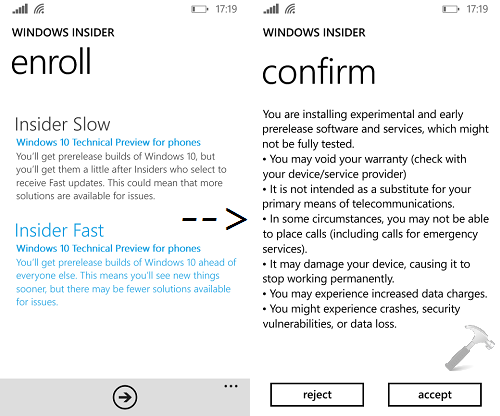 From here, you can follow on-screen instructions to proceed, just like you install updates in Windows Phone. Once installation succeeded, you can have Windows 10 running on your phone.
What's New In Windows 10 Mobile Insider Preview Build 15031
Here are the highlights of this build:
This build introduces new "Share" icon and miscellaneous fixes.
You can read about things fixed and known issues in this build and more at Windows blog:
Hope you enjoy this build of Windows 10 Mobile! Go here to learn how to uninstall Windows Mobile 10 and re-install Windows Phone 8.1.