Finally, the wait is over! So the good news is that Microsoft has started rolling out first stable build of Windows 10 Mobile. It is very well known that company was testing this OS since last year with the help of Windows Insider program. The program is still alive and Microsoft will keep testing new builds via it.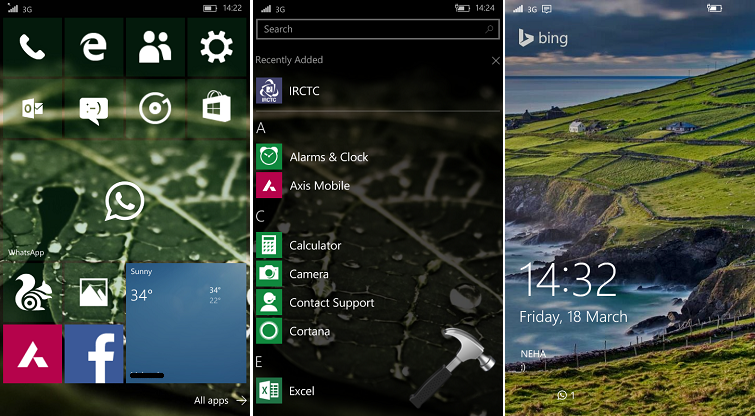 Well, Windows 10 Mobile now looks more powerful and robust OS. The company engineers has worked hard for providing it great UI at the end. The OS now gets its own built-in File Explorer and data encryption facilities. I read somewhere earlier that the OS will come with built-in call recorder as well but I couldn't find it in existing edition and I hope it gets included in next builds.
Upgrade Your Windows Phone 8.1 Devices To Windows 10 Mobile Now
Microsoft has made Windows 10 Mobile available only for few devices right now. Here are the name of those devices which are expected to hit the update:
Lumia 435, Lumia 430, Lumia 532, Lumia 535, Lumia 540, Lumia 1520, Lumia 930, Lumia 640, Lumia 640XL, Lumia 638 1GB, Lumia 636 1GB, Lumia 635 1GB, Lumia 625, Lumia 730, Lumia 735, Lumia 830.
If you own any of these devices, go to phone updates section of Settings app on your existing Windows Phone 8.1, and check for updates. If the update is available for your device, you can go ahead with on-screen instructions. This will resulting in turning your device into Windows 10 Mobile. The update will work even on very low-end phones with only 512 MB RAM installed, which is great!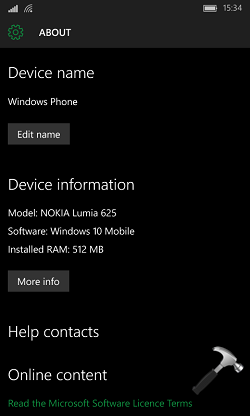 How To Check For Windows 10 Mobile Update
If you own a different Lumia device than the ones listed above, use the Upgrade Advisor app to check if your device can update to Windows 10 Mobile. This is an official app from Microsoft and you can get it from following link:
Download Upgrade Advisor App From Windows Phone 8.1 Store
After installing the app, follow these steps:
1. Open the app from Start.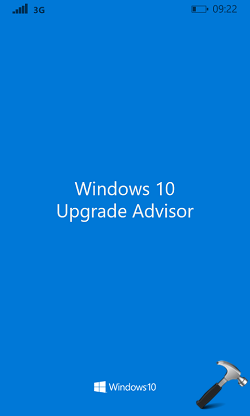 2. Then click Next button on following screen: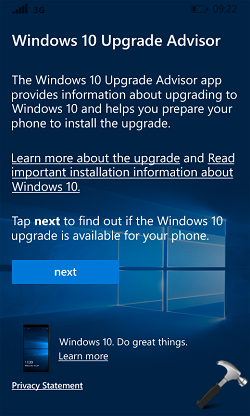 3. The app will now automatically fetch your device information and checks if the upgrade is available.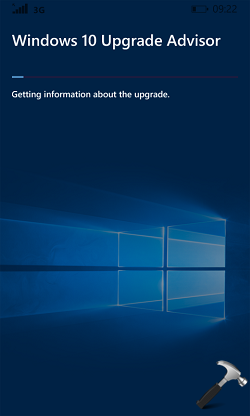 4. So in this way, you'll get notified if you can get the update. If update is available, tap on done to close this app. Now start installing update using phone updates section in Settings app.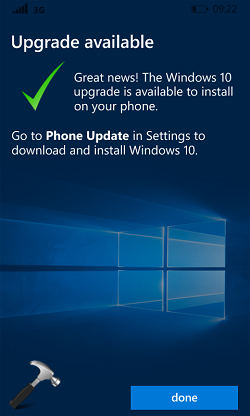 Hope you'll enjoy Windows 10 Mobile!