For systems connected as a part of domain, we can use same WORKGROUP to share files and folders. This sharing is done through network connections and it is important that all network locations must be well defined; in order to successively share the content. Basically, you can manage the WORKGROUP folders using File Explorer available in Windows 8 or later.
Recently, we came around a weird problem regarding this. In this case, we were able to locate list of files and available shares on the machine. However, when we tried to click on a specific share for instance say Storage, it gives following error:
Windows cannot access <the share>
Error code: 0x800704cf
The network location can't be reached. For information about network troubleshooting, see Windows Help.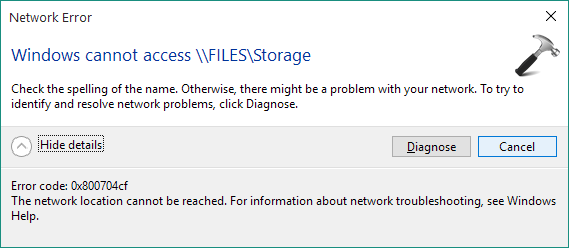 If you're also facing this same error in your WORKGROUP environment, you can try following fixes to solve this issue.
FIX : Error 0x800704cf – The Network Location Can't Be Reached In Windows 10/8.1/8/7
FIX 1 – Using Network Adapter Settings
1. Navigate to Control Panel > All Control Panel Items > Network Connections. In the Network Connections window, right click on your network adapter and select Properties.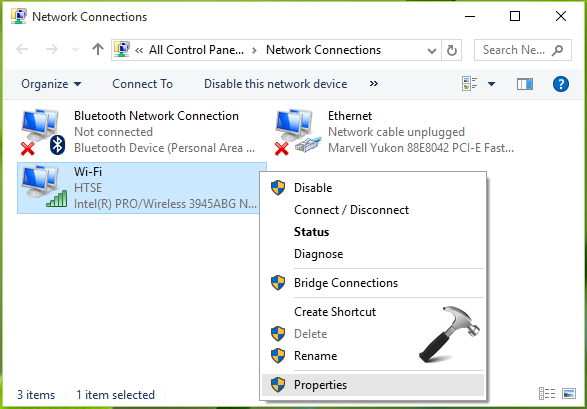 2. Next, in the network adapter's property sheet , you have to uncheck Client for Microsoft Networks option. Then click OK.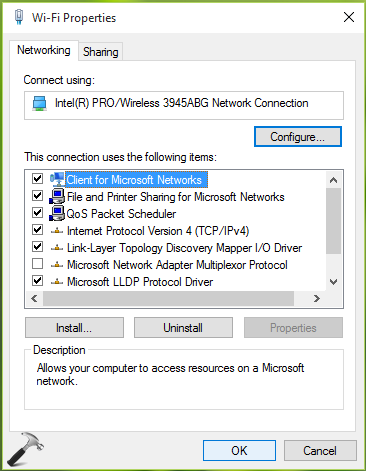 Now exit from Control Panel and reboot your system. After restarting the machine, you'll find that issue has been resolved already.
You can also fix this problem using Registry Editor, here is how:
FIX 2 – Using Registry Manipulation
Registry Disclaimer: The further steps will involve registry manipulation. Making mistakes while manipulating registry could affect your system adversely. So be careful while editing registry entries and create a System Restore point first.
1. Press

+ R and put regedit in Run dialog box to open Registry Editor (if you're not familiar with Registry Editor, then click here). Click OK.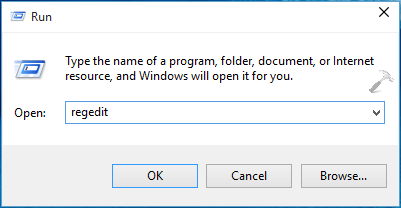 2. In the left pane of Registry Editor, navigate to following registry key:
HKEY_LOCAL_MACHINE\SYSTEM\CurrentControlSet\Services\NetBT\Parameters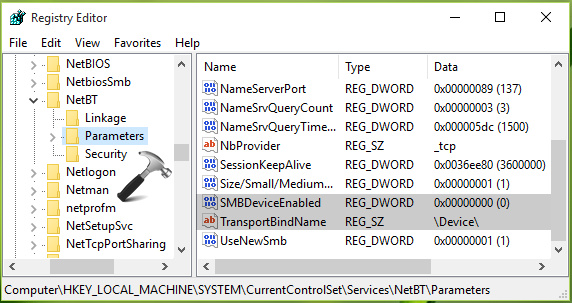 3. Next, highlight the Parameters key and come to its corresponding right pane. Here, make sure that Value data for TransportBindName registry string (REG_SZ) is set to \Device\. Also check whether SMBDeviceEnabled named registry DWORD (REG_DWORD) exists or not. If the DWORD exists and has a Value data of 0 assigned, it means direct hosting is disabled. You have change this Value data to 1, in order to resolve this issue and enable direct hosting. So simply double click on the registry DWORD to get this: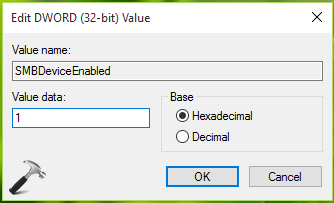 4. Finally, set the Value data to 1 in above shown box and click OK. Close Registry Editor and reboot to get the issue resolved permanently.
Hope this helps!
Related fix: The network path was not found (error 0x80070035).