Recently, we came across a strange error on our Windows 10 Pro system. This was strictly the File Explorer related error in which we can't create/copy/move/modify files under system root drive (usually C:). Whenever we try to perform any of these operations, following message appear:
An unexpected error is keeping you from creating the file. If you continue to receive this error, you can use the error code to search for help with this problem.
Error 0x80070522: A required privilege is not held by the client.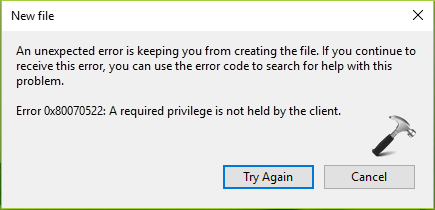 With that message, click on Try Again has no effect in the situation. If you also receive this error, the first step to fix it should be of running System File Checker (SFC) There is a strong possibility that corruption in some system file is causing this. Even if running SFC doesn't helps, go ahead with additional fixes mentioned below.
FIX : Error 0x80070522: A Required Privilege Is Not Held By The Client In Windows 10
FIX 1 – Using File Explorer
1. Right click on your system root drive in File Explorer and select Properties.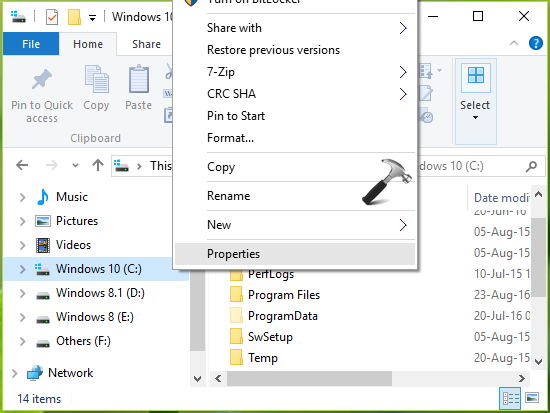 2. Next, in the properties window, switch to Sharing tab. Click Advanced Sharing button.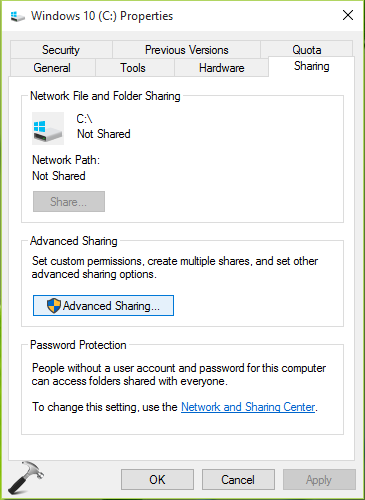 3. Under Advanced Sharing window, check Share this folder and click on Permissions.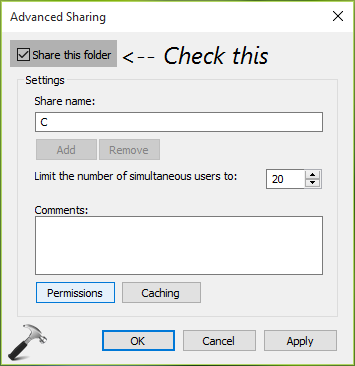 4. Then in permissions window, make sure Everyone is listed under Group or user names section. If it is not present there, click Add and type Everyone, select check names and then click OK. Now check Full Control, Change and Read options to provide full control to 'Everyone'.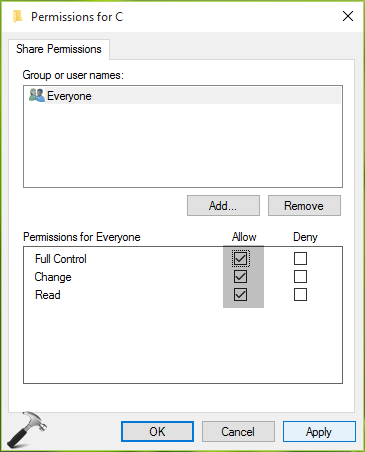 Click Apply followed by OK and in this way close File Explorer. Restart File Explorer using Task Manager and check the status of issue, it should no longer persist.
FIX 2 – Using Registry Editor
Registry Disclaimer: The further steps will involve registry manipulation. Making mistakes while manipulating registry could affect your system adversely. So be careful while editing registry entries and create a System Restore point first.
1. Press

+ R and put regedit in Run dialog box to open Registry Editor (if you're not familiar with Registry Editor, then click here). Click OK.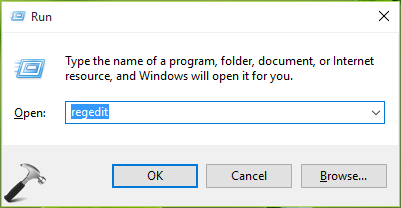 2. In the Registry Editor window, navigate to following registry key:
HKEY_LOCAL_MACHINE\SOFTWARE\Microsoft\Windows\CurrentVersion\Policies\System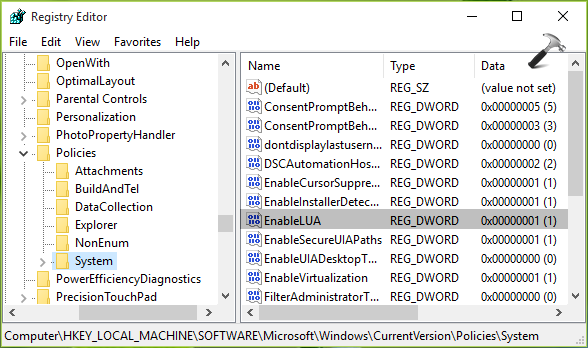 3. In the right pane of System key, look for the registry DWORD (REG_DWORD) named EnableLUA which should be corresponding to Value 1 as its Data. Double click on the DWORD to modify its value: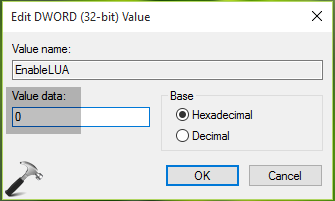 4. Now In Edit DWORD Value box, set the Value data as 0 and click OK. Close Registry Editor and reboot. After restart, the issue should be fixed.
Hope this helps!