If you're using a removable media such as DVD or USB drive, sometimes you might face trouble while removing or ejecting it from your system. Usually Windows rejects requests for the drives currently in use. This means you should first close the program, app, process using the content on drive. Then you should go ahead and try ejecting the drive. But this error may also appear in some cases:
An error occurred while ejecting CD/DVD drive.

So in this article, we'll see how to get rid of this situation, if you're stuck in. Here is how to fix this issue.
FIX: An Error Occurred While Ejecting CD/DVD Drive In Windows 10
To narrow the path to actual solution, we'll consider two possible cases and judge the required fix in both of them.
CASE 1 – The CD/DVD Drive Have Software Issue
If the DVD/CD drive has a software problem, you should be able to solve it with following:
1. Close all the programs that are utilizing content on CD/DVD drive.
2. Then if you've any CD/DVD burning software, make sure it not even running its processes in background or you can remove it temporarily from system.
3. Now open Task Manager and expand Windows Explorer. Right click on the CD/DVD drive entry and select End task.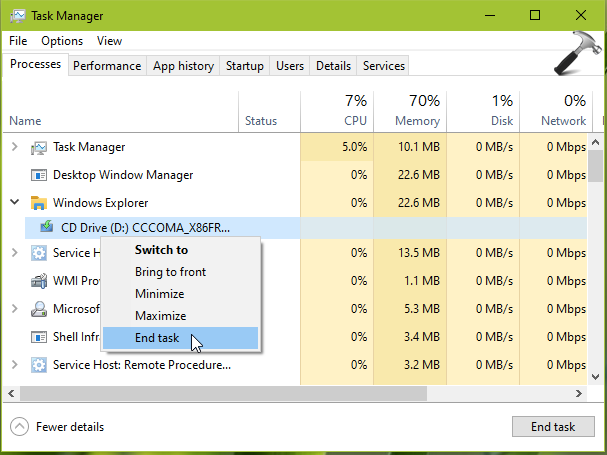 4. Next, press

+ E keys to access This PC. Right click on CD/DVD drive and select Eject option in the context menu.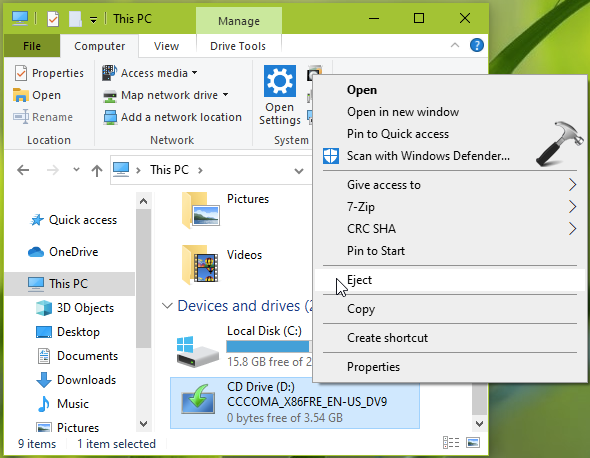 You should be now able to eject the drive successfully. If the problem still persists, read on to CASE 2.
CASE 2 – The CD/DVD Drive Have Hardware Problem
The another thing which can cause this issue, a hardware problem. Check if the CD/DVD drive light comes up when you opt to eject the drive. If this light is not blinking the drive doesn't have power. Else if the light blinks, the drive is equipped with power but there some another hardware problem blocking it to eject. You can put a paper clip into the hole to manually eject the CD/DVD drive as shown in below screenshot.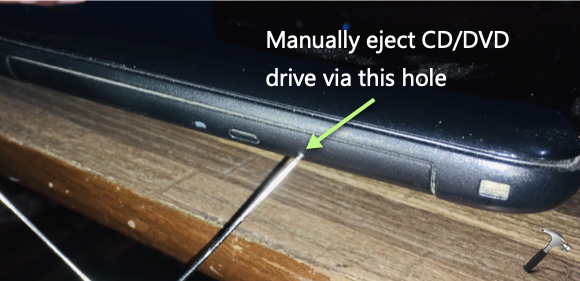 If the drive comes out manually with paper clip this means the drive could be defective. You should run your system diagnostics available in BIOS settings. However, if the problem continues any way, you need to take the machine to hardware technician to examine it and replace the CD/DVD drive, if required.
That's it!