A delegate stands for another person who can receive communications and respond them in your absence on your behalf, when you're on a vacation. Outlook 2013 comes with "Delegate Access" option and this feature is specially designed so that someone can respond your communications officially by having appropriate permissions.
A delegate can read only your meeting requests and responses, but never your inbox emails. Adding a delegate is pretty simple. Go to start page of Outlook application and click Account -> Delegate Access and then follow on-screen instructions to finish up adding delegate. Thus it seems like Delegate Access is very effective option and very helpful at official level.
However, sometimes you may not be able to add a delegate. This is because, you'll find that the Delegate Access option is missing in Outlook start page: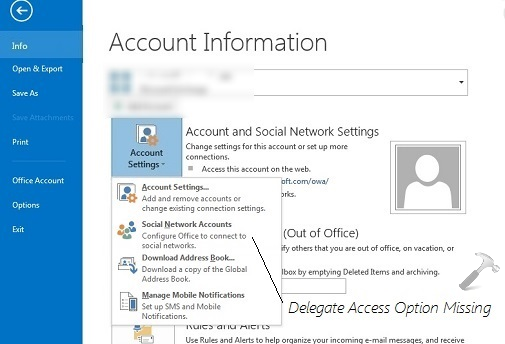 Now since the option is unavailable, you're missing all the fun of using Delegate Access feature inside Outlook. These simple registry steps will help you to restore the missing option. Here is how:
FIX : Delegate Access Option Is Missing In Outlook 2013
Registry Disclaimer: The further steps will involve registry manipulation. Making mistakes while manipulating registry could affect your system adversely. So be careful while editing registry entries and create a System Restore point first.
1. Press

+ R and put regedit in Run dialog box to open Registry Editor (if you're not familiar with Registry Editor, then click here). Click OK.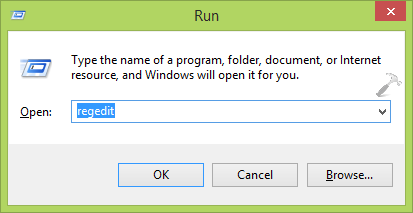 2. In the left pane of Registry Editor, navigate here:
HKEY_CURRENT_USER\Software\Policies\Microsoft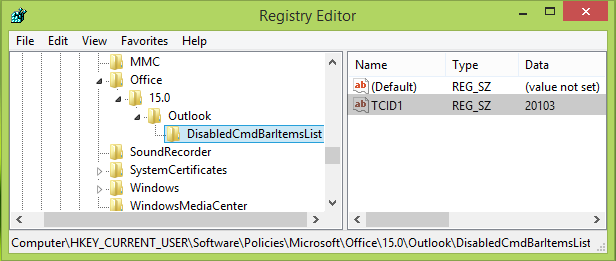 3. In the left pane of above mentioned location, right click Microsoft key and select New -> Key. Name the newly created key as Office. Similarly create sub-key 15.0 if you're on Office 2013 or 14.0 if you're on Office 2010 to Office key. Again create sub-key to 15.0 and name it Outlook. Moving on, similarly create sub-key to Outlook and name it DisabledCmdBarItemsList. So when you highlight DisabledCmdBarItemsList key, you must be at HKEY_CURRENT_USER\Software\Policies\Microsoft\Office\15.0\Outlook\DisabledCmdBarItemsList. Now come to the right pane of this registry location.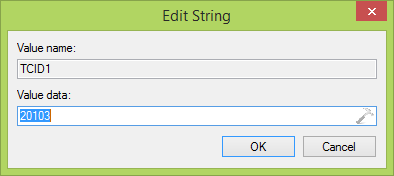 4. In the right pane, right click and select New -> String Value. Rename this newly created registry string (REG_STRING) as TCIDx (where x is an integer, initially you can put its value as 1) and double click it. Put the Value data as 20103 now and click OK. Finally, close Registry Editor and restart your system. After reboot, you'll be able to find Delegate Access option on the start page of Outlook application: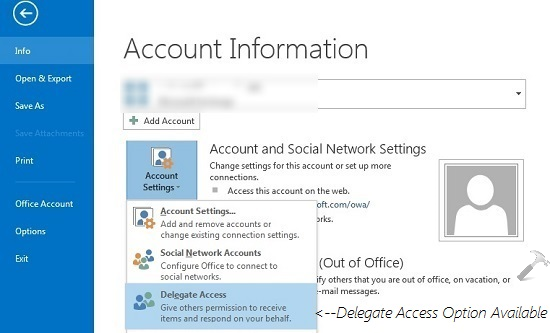 Hope this helps! Go here to learn quick tip to show or hide total editing time in Office 2013.